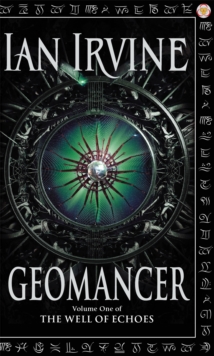 Geomancer : Volume One of The Well of Echoes
Paperback
Description
Two hundred years after the Forbidding was broken, Santhenar is locked in war with the lyrinx - intelligent, winged predators who will do anything to gain their own world.
Despite the development of battle clankers and mastery of the crystals that power them, humanity is losing.
Tiaan, a lonely crystal worker in a clanker manufactory, is experimenting with an entirely new kind of crystal when she begins to have extraordinary visions.
The crystal has woken her latent talent for geomancy, the most powerful of all the Secret Arts - and the most perilous.
Falsely accused of sabotage by her rival, Irisis, Tiaan flees for her life. Struggling to control her talent and hunted by the lyrinx, Tiaan follows her visions all the way to Tirthrax, greatest peak on all the Three Worlds, where a nightmare awaits her ...Find out more about this title and others at www.orbitbooks.co.uk
Information
Format: Paperback
Pages: 640 pages
Publisher: Little, Brown Book Group
Publication Date: 24/07/2003
Category: Fantasy
ISBN: 9781841491370
Free Home Delivery
on all orders
Pick up orders
from local bookshops
Reviews
Showing 1 - 1 of 1 reviews.
Review by HanGerg
16/06/2015
Tiaan lives in a world that has known nothing but war for 150 years. Humanity's enemy are the Lyrinx, huge, powerful and highly intelligent beings who are capable of flight and are very hard to kill. They seem to have appeared out of some alternate universe at some point, but that bit is never explained very well. Tiaan works in a grim factory, where she is a virtual slave, making the vast war machines that are mankind's only hope against the Lyrinx. She is an artisan, the most highly skilled of the workers at the factory, making the controllers that somehow harness the power of the natural world and channel them into the machines. No one takes the time to explain how this works, and indeed the characters themselves don't really seem to know, least of all Tiaan, but she is very good at it nevertheless. Life is hard for Tiaan and her fellow workers, but it is the only life she knows, and she's happy enough, until one day something happens that will set her life off on a radically new path.....taking her on an epic journey...harnessing powers she would never have believed it possible to control.....forcing her to travel to the very heart of the enemies' fortress....before her ultimate encounter that will change everything.....Perhaps a bit harsh on the scoring, as it did carry me along nicely just when I needed something distracting and not too challenging. It was quite nicely written, and despite my sarky comments above, is quite original within the confines of this sort of narrative, plus it had some well drawn, complex characters. On the down side, the story sometimes lacked momentum - it had all the ingredients of a really cracking yarn, and several times it felt like it was ready to kick into a higher gear but then.....just fell short. It's really very violent, not something I would always take issue with, and I think the author perhaps included it here to show that although this is a fantasy novel, it's very much an adults only fantasy novel, but I just couldn't get past some of the deaths of key characters. The death toll in general was very high, and sometimes unnecessarily so in my opinion. There's one death right towards the end that just doesn't make any sense from an ongoing narrative point of view, and which annoyed me enough to lose this book 0.5 all on its own. This is the first part of the trilogy, and I'm currently undecided whether I care enough about the few remaining characters left alive to investigate parts 2 and 3. Perhaps, if like this one, I run across them in a charity shop at a bargain price, but otherwise perhaps not....
Also in the Well of Echoes series | View all