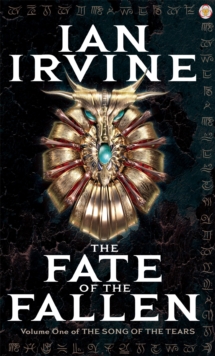 The Fate Of The Fallen : The Song of the Tears: Volume One
Paperback
Description
After ten years of servitude, Nish is about to be released from the blackest prison of the maimed God-Emperor, Jal-Nish Hlar, his corrupt father.
Jal-Nish holds the two sorcerous quicksilver tears, Gatherer and Reaper, and with them controls all of the Secret Art.
All opposition having been crushed, he has begun to remake the world in his depraved image.
The only hope of overthrowing him lies in Nish, whom the oppressed peoples of the world see as a messianic figure.
They have named him the Deliverer for, as Nish was dragged away to prison a decade ago, he wildly promised to return and cast down his father.
Unfortunately Nish is powerless and without allies. But worse, his father wants Nish to become his lieutenant and become as corrupt as he is.
Jal-Nish offers Nish everything he has ever desired and, faced with the unbearable alternative of another ten years in prison, he isn't sure he can resist the temptation.
Information
Format: Paperback
Pages: 624 pages
Publisher: Little, Brown Book Group
Publication Date: 07/06/2007
Category: Fantasy
ISBN: 9781841494692
Free Home Delivery
on all orders
Pick up orders
from local bookshops
Reviews
Showing 1 - 1 of 1 reviews.
Review by lewispike
16/06/2015
This is the next book along, set a decade after the Well of Tears tetralogy.Nish has been in prison throughout, Irisis is dead, and most of the rest of the world is under Jal-Nish's iron fist as God-Emperor. Maelys, hitherto unknown, and her family conspire to break Nish out of jail and to set him up as the Deliverer, the redeemer of the people according to his pledge given after Irisis' execution.There is a lot of angst and agonising. There's more betrayal and treachery. There's quite a lot of weird stuff happening out there that isn't explained that well in the book - but that's not that uncommon for Ian Irvine and it will doubtless be cleared up later.I quite enjoyed this book, hence the 4 stars, but it took some getting into. I think that's because I was expecting to fall straight back into a familiar world, but with the God-Emperor, the disappearance of most forms of magic and the like it was more like finding a not-quite-familiar world and that sense of it being not quite right made it harder to find out about than if it was a new world altogether.