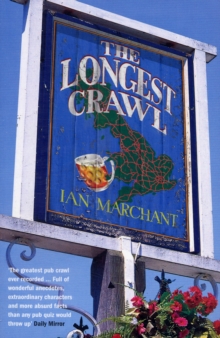 The Longest Crawl
Paperback
Description
The British love their booze. Ian Marchant - bon viveur, pub singer and writer - sets off to map the British landscape in drink.
This mission takes Ian and his friend Perry on a gruelling month-long pub crawl, from the Turk's Head on the Scilly Isles to the Baa Bar in the Shetlands, taking in as many as possible of the British Isles' 60,000 pubs.
Theirs is no sober march from south to north but a reeling, meandering trip as they meet up for a drink with poets and comedians, chavs and hedonists, Europe's foremost pub philosopher and Ian's Uncle Tony.
This booze-addled, pork-scratching-fuelled trip makes a hilarious and uniquely British travelogue.
Information
Format: Paperback
Pages: 416 pages
Publisher: Bloomsbury Publishing PLC
Publication Date: 01/01/2007
Category: Travel writing
ISBN: 9780747585572
Free Home Delivery
on all orders
Pick up orders
from local bookshops
Reviews
Showing 1 - 2 of 2 reviews.
Review by reading_fox
16/06/2015
Probably funnier than a tale of two middleaged men on the piss for a month might sound. It sounds at first like one of those ideas dreamed up in a pub, and it was. Let's go on a pubcrawl from the southern most pub in the UK (the Turk's Head on the scilly Isles) to the northernmost (the Baa Bar in Shetland). But amazingly Ian managed to get a contract beforehand to write a book about the experience. So he was paid, to go drinking for a month. Fortunetly ian's idea of a nice night out in a pub corresponded more or less, with mine which made reading about the various establishiments a pleasure.All told the list of places Ian visits, from pubs and bars to cafes, distilleries and wineyards totals 158. Which in the space of one month is quite a lot! I'm sure my liver couldn't keep up with it, especially as there were a few more mentioned but not named. However the writing is far more on the details, and history of the establishiments, why they are famous or worth visiting, than on the banalities of Ian's drunken behavior. A few times he admits to not being able to remember anythign about whre they visited. Even his taperecorded notes don't make any sense. I'm not convinced that his admissions of driving (not admittedly in quite such a state) , nor of all the pot smoked en route, were wise. Most of the book though is filled with Ian's witty banter, a few curmudgeonly rants, and some touching desctriptions. One of Ian's day jobs has been as a stand-up comic, this definetly shows through. There is a lot of history, trivia, and socio-political commentry. One of the big problems in current UK society is 'binge' drinking, something that Ian doesn't have the answer to, but does have a lot of thoughts about - Of course in a book like this many of the choices seem odd, why did he go there, and not visit my favourite over here. That the entirety of Manchester was missed seems most peculiar, but that is oftne the case. Many of the places were somewhere where he had friends to stay with, or whom provided introductions - I guess you can't know someone everywhere.Surprisingly enjoyable, fact filled (no referencs though, so they're onyl as valid as anything else you've heard down a pub), brief summary of drinking in the UK.
Review by Daftboy1
16/06/2015
I enjoyed reading this book it is the tale of Ian and Perry undertaking the task of going on the largest Pub crawl in Britian from Isle of Sciliys to the outer shetland isles. They meet some interesting characters along the way. Have a few funny ancedotes to tell aswell. Easy to read book it also gives you a history of drinking and Pub life in general.