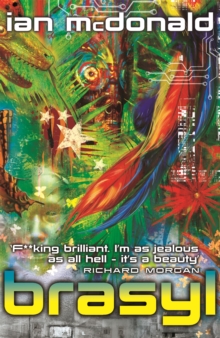 Description
Ian Macdonald's RIVER OF GODS, painted a vivid picture of a near future India, 100 years after independence.
It revolutionised British SF for a new generation by taking a perspective that was not European or American.
BRASYL will do the same for South America's largest and most vibrant country.A story that begins in the favelas, the slums of Rio, and quickly expands to take in drugs, corruption, and a frightening new technology that allows access to all the multiple worlds that have slipped into existence in other planes everytime we make a decision.This is rich, epic SF that opens our eyes to the world around us and posits mind-blowing alternative sciences.
It is a landmark work in modern SF from one of its most respected practitioners.
Information
Format: Paperback
Pages: 432 pages
Publisher: Orion Publishing Co
Publication Date: 28/08/2008
Category: Science fiction
ISBN: 9780575082885
Free Home Delivery
on all orders
Pick up orders
from local bookshops
Reviews
Showing 1 - 3 of 3 reviews.
Review by cybergeist
16/06/2015
Excellent book following three interconnected stories set in different time periods and realities in Brasil...I was a bit confused after the first read, but it made a lot more sense after the second...but then maybe I'm just a bit slow :)
Review by pgmcc
16/06/2015
Quantum computing and the "multiverse" are the science behind McDonald's tale of futuristic life in Sao Paulo, missionary efforts and heresy up the Amazon in the 1700s, and the sleaze of reality TV in present day Rio de Janeiro. Religion versus science is the underlying struggle that reveals itself as the reader progresses thorough the story.McDonald also touches on criminality, corruption, religious sects, slum existence, life in the jungle, designer cosmetic surgery, dreams and loss.The characters and relationships in each of the three time slots covered are interesting and of their time. Louis Quinn, a Jesuit priest with a less than Jesuitical past, is the main character in 1732; Marcelina Hoffman is the centre of the action in 2006; Edson Jesus Oliveira de Freitas is the gender-shifting, small-time-want-to-make-it-big wheeler-dealer, sorry, entrepreneur, from 2032 Sao Paulo, who holds things together in the future.The novel starts in the year 2006 with an amazing surveillance operation that will amuse and get people thinking about what is right and what is wrong. 2032 Sao Paulo is then introduced with football being a major theme. 1732 is introduced as our Jesuit priest arrives to carry out a most challenging task. The novel carries on with the interweaving of the three time-slots.This is a fascinating read for many reasons, including the Brazilian history it contains, the appetite whetting for more information on quantum physics, and the underlying struggle between religious belief and scientific fact.As is his wont, McDonald has include language of the locality, i.e. Portuguese. A glossary provides some useful explanations and translations.
Review by BillHall
16/06/2015
A fascinating book set in vibrant landscapes and populated by extreme (but believable) characters that are unlike those in any of the thousands of other SciFi books I have read. Although the science component is not immediately evident, Ian McDonald's book explores the quantum multiverse of tropical Brazil in three temporal epochs, Amazonia in 1732, and Rio de Janiero in 2006 and 2032. Compared to the bland worlds and peoples of temperate climates, tropical Brazil is bright, teaming and frenetically exciting. The characters use a lot of Brazilian slang (enough that a glossary the could have been even more extensive is required). The main characters are also initriguing. The main characters in 1732 were Father Quinn, an Irish Jesuit admonitory sent to check up on rumors of another priest gone feral deep in Amazonia; and Robert Falcon, a geographer - clearly based on the historical astronomer, Charles Marie de La Condamine (see Wikipedia), who explored the Amazon as part of the French Geodesic Mission in the late 1730's. In 2006 the main character is Marcelina Hoffman, a hyperkinetic TV producer of over the top "reality documentaries" who dabbles in marshal arts and drugs. Marcelina's TV colleagues, family and neighbors fill supporting roles. In 2032 the main characters are the 20 something bisexual Edson Jesus Oliveira de Freitas; Edson's patron, Mr Peach, a gay aristocratic physics teacher at the University who is into superhero fetishism; and Fia Kishida, who had been one of Mr Peach's students in quantum theory and her doppleganger from another thread in the multiverse.Towards the end, the physics and the interactions between the different times and threads become more apparent, although at the end, the resolution seemed a bit confusing to me.The only weaknesses in the writing are perhaps an overuse of untranslated Brazilian slang and problems I had understanding the resolution. Nevertheless, the book is very close to five star for me.
Also in the Gollancz S.F. series | View all