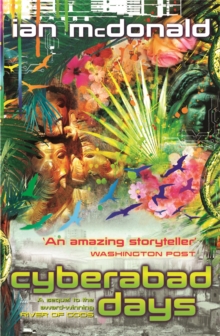 Description
The world: 'Cyberabad' is the India of 2047, a new, muscular superpower of one and a half billion people in an age of artificial intelligences, climate-change induced drought, water-wars, strange new genders, genetically improved children that age at half the rate of baseline humanity and a population where males out-number females four to one.
India herself has fractured into a dozen states from Kerala to the headwaters of the Ganges in the Himalayas.
Cyberabad is a collection of 7 stories:The Little Goddess.
Hugo nominee Best Novella 2006. In near future Nepal, a child-goddess discovers what lies on the other side of godhood.The Djinn's Wife.
Hugo nominee and BSFA short fiction winner 2007 A minor Delhi celebrity falls in love with an artificial intelligence but is it a marriage of heaven and hell?The Dust Assassin.
Feuding Rajasthan water-rajas find that revenge is a slow, subtle process.
Jasbir and Sujay go Shaadi. Love and marriage should be plain-sailing when your matchmaker is a soap-star artificial intelligenceSanjeev and Robotwallah.
What happens to the boy-soldier roboteers when the war of Separation is over?Kyle meets the River.
A young American in Varanas learns the true meaning of 'nation building' in the early days of a new country.Vishnu at the Cat Circus.
A genetically improved 'Brahmin' child finds himself left behind as he grows through the final generation of humanity.
Information
Format: Paperback
Pages: 320 pages
Publisher: Orion Publishing Co
Publication Date: 01/10/2009
Category: Science fiction
ISBN: 9780575084063
Free Home Delivery
on all orders
Pick up orders
from local bookshops
Reviews
Showing 1 - 2 of 2 reviews.
Review by kaipakartik
16/06/2015
This is an absolutely fantastic collection of stories of varying length. I never thought science fiction set in India could be done so well until I read this and River of Gods.The way Ian McDonald writes it seems that he has lived in India forever and his observations about the culture, the ways the caste system works, the preference for a male child are spot on. His prose is electric and Ian McDonald turns even spiritual discourses into absolute page turners.There are seven stories in all each of them covering ample terrain.My favorites include 1) The little goddessA child who is annointed as a goddess gets thrust into the real world the moment her blood is spilled. She becomes a carrier of high level AIs. Absolutely brilliant.2) Vishnu at the cat circusPlaces the whole of river of gods novel into context. A tale of how a genetically re engineered Brahmin has to live his life. Must be read to be experienced.3) The Djinn's wifeA human and an AI fall in love.4) The Dust AssassinA tale of rivalry between the two ancient houses of Rajupatana and the Mughals and how a princess is engineered to be a weapon from the time she is born.This is how you write short fiction. I couldn't put the collection down till I had read all of them cover to cover.An extract which I think is growing ever more pertinent in modern India."Economists teach India's demographic crisis as an elegant example of market failure. Its seed germinated in the last century, before India became Tiger of Tiger economies, before political jealousies and rivalries split her into twelve competing states. A lovely boy, was how it began. A fine, strong, handsome, educated, successful son, to marry and raise children and to look after us when we are old. Every mother's dream, every father's pride. Multiply by the three hundred million of India's emergent class. Divide by the ability to determine sex in the womb. Add selective abortion. Run twenty-five years down the x-axis, factoring in refined, twenty-first-century techniques such as cheap, powerful pharma patches that ensure lovely boys will be conceived and you arrive at great Awadh, its ancient capital Delhi of twenty million, and a middle class with four times as many males as females. Market failure. Individual pursuit of self-interest damages larger society. Elegant to economists; to fine, strong, handsome, educated, successful young men like Jasbir caught in a wife-drought, catastrophic."
Review by HanGerg
16/06/2015
This book is billed as a sequel to River of Gods ,though it is actually more a collection of short stories set in the same universe as the original story, rather than a conventional sequel. However, the last of the short stories does directly address what happened in the first book and continues on that story to some sort of conclusion. The main joy of these stories is that the universe McDonald created is just such an enthralling place to be. The setting is India, 30-40 years into the future. In many ways, this world is one that we would recognise, but with many subtle or not so subtle differences. Global warming has meant all of India suffers from a severe shortage of water, that leads to conflict between the regions that then fracture into 12 seperate states. Many of these states now lead the world in computer technology, especially in the creation of "aeais"- basically computer intelligences that range from small programmes that will overseer basic domestic management tasks through to fully sentient beings that are indistinguisable from humans 99% of the time. We also see some of the social trends of present day India played out to full effect, so the current demographic time bomb of young men outnumbering young women four to one is examined in more than one story in the collection. Then there are new developments in this world that we could not predict now, such as the invention of a third sex, created when men or women decide to step away from all the baggage associated with their gender and literally remake themselves from the cell level up. Aside from these really interesting themes, the book is also made great by the details of this fully realised world, that just leap off the page in all their richly textured and atmospheric glory. And finally, the actual stories themselves are just so compelling and brilliantly told, that the whole package is just absolutely irresistable. Once I finished it, I just wanted to start all over again, as the text is just so rich I think it's impossible to take it all in in one reading. Actually, I would probaly re-read the first book again, and then this one, as I'm sure there are a lot of minor characters and other details that overlap between the two that I may have overlooked. If you have already read the first book in this series, I can 100% guarantee you will love this. If you haven't read either yet, what are you waiting for? I think you could probably read this one before "River..." actually, as you don't need any prior knowledge from the previous book, but the final story might ruin certain aspects of the first book for you if you are intending to read both. On this evidence, I am tempted to make one of those grand statements that publishers put on the back covers of books. I may not be fully qualified to say this, not having read a huge amount of contemporary Sci-Fi, but what the heck, after a book this good I'm feeling exuberant: Ian McDonald is the best Sci-Fi writer currently at work in the world today!.