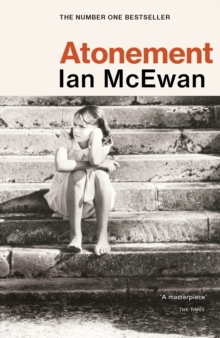 Description
On the hottest day of the summer of 1935, thirteen-year-old Briony Tallis sees her sister Cecilia strip off her clothes and plunge into the fountain in the garden of their country house.
Watching her too is Robbie Turner who, like Cecilia, has recently come down from Cambridge.
By the end of that day, the lives of all three will have been changed for ever, as Briony commits a crime for which she will spend the rest of her life trying to atone.
Information
Format: Paperback
Pages: 384 pages
Publisher: Vintage Publishing
Publication Date: 02/05/2002
ISBN: 9780099429791
Other Formats
Paperback from £6.39
EPUB from £5.99
Hardback from £9.15
eAudiobook MP3 from £9.14
Free Home Delivery
on all orders
Pick up orders
from local bookshops
Reviews
Showing 1 - 5 of 42 reviews.
Previous | Next
Review by bibliobibuli
16/06/2015
Atonement is now my favourite of McEwan's novels (a position previous held by On Chesil Beach, A Child in Time and the first terrible chapter of Enduring Love):It's breathtakingly good, so beautifully written and carefully detailed that you are drawn right in ... to a large English house on a stiflingly hot summer's day, to the war ravaged landscape of France as an army retreats to Dunkirk, to a London hospital swamped by the war-wounded in the aftermath.As so often in McEwan's novels, something completely unthinkable happens and destroys the lives of all involved. Here the testimony of a thirteen year old girl, Briony Tallis, sends an innocent man to gaol for a rape (or molestation) that he did not commit. Was it simply a misunderstanding from which Briony found it impossible to withdraw once events were set in motion? Was she the victim of her own over-dramatic imagination? Was she simply jealous of the sexual passion that had been ignited between her sister, Cecilia, and Robbie?Whatever the truth, Robbie's lower social status weighs against him. He is the son of the housekeeper, hitherto treated as a member of the family, and Mr. Tallis has even paid for this education at Cambridge and is willing to finance his further studies in medicine. But although he had been formerly treated as a member of the family, that relationship seems now to carry no weight. He is sentenced while the true perpetrator of the crime is not even suspected, although all the clues are there.Cecilia pledges her love as her man is led away, but really can there be a happy ending for the two? And can Briony ever really atone for the harm she has caused?One of the biggest delights of the book for me was the post-modern twist towards the end which has the reading flicking back to re-evaluate the story in the light of new evidence.I shall give no more than that away, even though I'm dying to. It's enough to say that I found the book moving and unputdownable and surprising.Back in 2001 I remember banging on to whoever would listen about how glad I was that Peter Carey's True History of the Kelly Gang won the Booker that year. Now, while that book still remains a firm favourite, I'm forced to reconsider!
Review by Lisuebie
16/06/2015
Much better than the Cement Garden. Convoluted, complex. Characters rich, believable, tragic.Great book.
Review by dylanwolf
16/06/2015
Atonement is a rather long novel for Ian McEwan. Perhaps he should do more this length because I believe this is his best. Certainly he has given the first half of the novel, set in the country house of the Tallis family just prior to World War II enough room to breathe. This part of the book is wonderfully evocative. I'm personally less enamoured of the war scenes but they are still of high quality. And, of course, I love the complexity of the ending, which I think is a master stroke.
Review by murraymint11
16/06/2015
Really enjoyed Part 1 where the characters were introduced and developed. I wanted to see how they all would interact with one another. But Part 2 (wartime) was like a separate story, and the characters never did interact which was really disappointing.
Review by Alirob
16/06/2015
This is a wonderful book, beautifully written. Until the very end I was thinking that it was too short and that more should have been included about their lives after the war. In the last two pages this feeling was dispelled and you realise why this has not been included. This has made me want to read all of Ian McEwans' books.