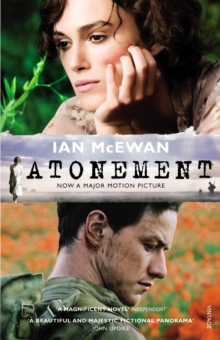 Description
On the hottest day of the summer of 1934, thirteen-year-old Briony Tallis sees her sister Cecilia strip off her clothes and plunge into the fountain in the garden of their country house.
Watching her is Robbie Turner, her childhood friend who, like Cecilia, has recently come down from Cambridge.
By the end of that day, the lives of all three will have been changed for ever.
Robbie and Cecilia will have crossed a boundary they had not even imagined at its start, and will have become victims of the younger girl's imagination.
Briony will have witnessed mysteries, and committed a crime for which she will spend the rest of her life trying to atone.
Information
Format: Paperback
Pages: 384 pages
Publisher: Vintage Publishing
Publication Date: 02/06/2007
ISBN: 9780099507383
Other Formats
Paperback from £6.39
EPUB from £5.99
Hardback from £9.15
eAudiobook MP3 from £9.14
Free Home Delivery
on all orders
Pick up orders
from local bookshops
Reviews
Showing 1 - 5 of 10 reviews.
Previous | Next
Review by Elphaba71
16/06/2015
This has to be one of the most beautifully & compelling written novels I have ever read. I have to say it is a little slow to start with, but i really didn't want the story to end!.Briony a young 13 year old girl witnesses events between her older sister & the man she is in love with, and completely misunderstands what she sees, & spends the rest of her life trying to atone for the crime she committed, wrecking the young lovers lives.
Review by Eruntane
16/06/2015
I read this book after watching the film - not the order I usually do things, but I was gratified to see that the film-makers had done a really good job of sticking to the plot. I liked the book a lot, but it took a while before I adjusted to his very densely descriptive prose style. I also thought it got better as it went on - the first section was mostly about what was going on in peoples' heads, whereas later there was more action, making it easier not to get bogged down in the narrative.
Review by SkyRider
16/06/2015
After reading four of his books, I'm beginning to notice something of a formula to Ian McEwan's writing — there is a climactic event, normally around a third to a half of the way through, and the main bulk of the book deals with the repercussions and ramifications of that event as the characters come to terms with it. Inevitably the outcome is tragic and the tragedy is frequently of the protagonists' own making. As the drama unfolds, McEwan gives us an insight into his characters' motivations so that their actions always seem entirely rational yet we see these rational actions having terrible consequences. Sometimes the fallout is miserable and sometimes very miserable; it's certainly never uplifting. Atonement does not deviate from this pattern.McEwan's writing is highly lyrical and brings the images of 1930s England and war-torn France to life, though the section set in wartime London worked less well for me — given the denouement, perhaps this was a deliberate attempt on the author's part to try to make this section seem more dreamlike, less real. The characters are vivid and well-rounded, particularly Briony whose pride prevents her from even admitting her mistake even to herself.There isn't much of a plot; if you read books for the good stories than this doesn't have a lot to recommend it. But as a morality play, an insight into peoples' characters and sheer imagery in words then it's one of the strongest books I've read for some time.
Review by nellista
16/06/2015
I decided I just had to read this book after seeing the movie. He has created some marvelously deep characters in Briony, Cecilia and Robbie. There are so many contrasts in the book - Cecilia's feeling about Robbie, Briony's feelings about Robbie, the sleepiness of the first part and the chaos of the War. Loved the part about the evacuation of Dunkirk. It is a lovely the way that McEwan has woven the story through different view points (which is something that Briony tries to do in her writing), and different periods of time. A beautifully constructed novel, that shows a wonderfully descriptive style of getting into the characters thoughts.
Review by Leonna87x
16/06/2015
I was bitterly disapointed with this book,to say the least. I really wanted to read it before i watched the film,as i hate doing it the other way around...and to be hoenst its put me of watching the film. It was such a dull read imo. I had to fight to finish it,i even thought about just not bothering with it, not reading on..but im one of those odd people who have to finish a book,good or bad. Anyhow,it really was not my type, the idea of the book was a good one..but the way it was wrote, bored me to tears.