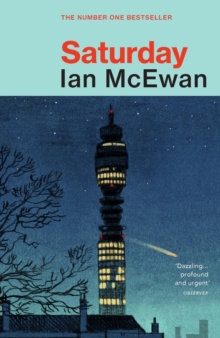 Description
Saturday, February 15, 2003. Henry Perowne is a contented man - a successful neurosurgeon, the devoted husband of Rosalind and proud father of two grown-up children.
Unusually, he wakes before dawn, drawn to the window of his bedroom and filled with a growing unease.
What troubles him as he looks out at the night sky is the state of the world - the impending war against Iraq, a gathering pessimism since 9/11, and a fear that his city and his happy family life are under threat.
Later, Perowne makes his way to his weekly squash game through London streets filled with hundreds of thousands of anti-war protestors.
A minor car accident brings him into a confrontation with Baxter, a fidgety, aggressive, young man, on the edge of violence.
To Perowne's professional eye, there appears to be something profoundly wrong with him.
Towards the end of a day rich in incident and filled with Perowne's celebrations of life's pleasures, his family gathers for a reunion.
But with the sudden appearance of Baxter, Perowne's earlier fears seem about to be realised.
Information
Format: Paperback
Pages: 304 pages
Publisher: Vintage Publishing
Publication Date: 29/10/2005
ISBN: 9780099469681
Other Formats
EPUB from £4.99
eAudiobook MP3 from £8.00
Free Home Delivery
on all orders
Pick up orders
from local bookshops
Reviews
Showing 1 - 5 of 18 reviews.
Previous | Next
Review by innominate
16/06/2015
At first I was a bit disappointed that a number of the reviews here and on Amazon rated Saturday so poorly. I thought it was magnificent.After a little thought, I think I know why this book has polarised opinion so much. It is written by, about, and for the middle-aged male. I am one of those. (It might appeal to women as well, but I can only speak for myself.)If you have ever felt jealous of (but at the same time admiring) the achievements of your children and their generation, while at the same time resenting (but taking pride in) the careers of your parents or parents-in-law and their generation, you will find something in Ian McEwan's book that speaks to you. If you feel youthful whilst fearing the onset of senility, if you have a Saturday routine that has come to define your week, if you are between 42 and 52, you will understand Henry Perowne.Even if you are not part of the obvious audience for this book, put aside your concerns about the obviously contrived elements (all the action taking place on one day or the power of Dover Beach to turn the tide of an armed burglary) and enjoy the beautifully constructed prose and characterisation. (And, if you are younger than 42, anticipate your future.)
Review by booksbooks11
16/06/2015
I bought this while on holiday in England, just because it was on special. It turned out to be a really engaging read. Yet another "it all takes place in one day" story, but it unfolds really nicely and leads you up a few tantalising dead ends.
Review by prof_brazen_guff
16/06/2015
A compelling read, and a mature, multi-faceted exploration of the moral arguments concerning the proposed invasion of Iraq. Throughout the novel, characters are placed in positions where they are aggressors, and indeed where they are victims, demonstrating that there are no cut and dried decisions to be made in such difficult historical times.
Review by dylanwolf
16/06/2015
This is a real McEwan squib. The neurosurgeonese just seems showy (look at detail and authenticity in my research!) and the set piece squash game is tedious. The protagonist Perowne is a smug, intensely dislikeable upper class bore and I couldn't care less what happened to him and his poorly sketched out family. I rather hoped Baxter would mash him. I fail to see how the events are at all linked to the anti-war protestors or the blazing aeroplane; McEwan might as well have set it on "Talk like a Pirate" day. Take a look at Any Human Heart by William Boyd to find another aggravatingly self-obsessed hero.
Review by michaeldwebb
16/06/2015
Perfectly readable, but a little dull. Don't know why I always read McEwan - the first sentence could apply to all his books!