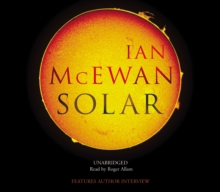 Description
Michael Beard is a Nobel prize-winning physicist whose best work is behind him.
Trading on his reputation, he speaks for enormous fees, lends his name to the letterheads of renowned scientific institutions and half-heartedly heads a government-backed initiative tackling global warming.
A compulsive womaniser, Beard finds his fifth marriage floundering.
But this time it is different: she is having the affair, and he is still in love with her.
When Beard's professional and personal worlds collide in a freak accident, an opportunity presents itself for Beard to extricate himself from his marital mess, reinvigorate his career and save the world from environmental disaster.
Ranging from the Arctic Circle to the deserts of New Mexico, "Solar" is a serious and darkly satirical novel, showing human frailty struggling with the most pressing and complex problem of our time.
A story of one man's greed and self-deception, it is a profound and stylish new work from one of the world's great writers.
Information
Format: CD-Audio
Publisher: Cornerstone
Publication Date: 18/03/2010
ISBN: 9781846572807
Other Formats
Paperback from £7.65
EPUB from £4.99
Free Home Delivery
on all orders
Pick up orders
from local bookshops
Reviews
Showing 1 - 1 of 1 reviews.
Review by ImBookingIt
16/06/2015
I'll be upfront about this: I doubt I would have finished the book if I hasn't been reading it for book club. It featured an unlikeable main character, and spent way too much time on his bodily functions.But I gave it 4 stars.The book (like its main character) wasn't likable, but it was interesting.It's easy to say why I didn't like Beard. The first thing you learn about him is that he's a philanderer with a double standard. From there he just adds fault upon fault-- he was evidently once brilliant, and he's still smart, but he just coasts by in jobs that want his name on their letterhead. Anything that goes wrong is someone else's fault (and he'll go to serious effort to ensure that everyone else thinks that to). He's so self centered that no one else's perspective is anywhere on his radar.On the other hand, he can be charming, and given his egocentricity, his views make a certain kind of sense. They are entertaining to read because they are so far removed from reality.Similarly, I could sit back and watch the events of the book unfold, no matter how preposterous at times. It's all rooted in reality.I could have done without the bodily humor-- the scene that goes on and on about him going out into the arctic while needing to pee, finally stopping to take care of it, then thinking that part of his anatomy has frozen and broken off; A scene where he eats too much thinking he might be hungry later, then gives a speech thinking he needs to throw up (finally stepping aside to do just that), descriptions of the smells associated with sex between two older, fat participants.I think that what makes this book work is that in his sea of faults, I could see some of my own.When reading it, I felt the entire Global Warming/Clean Energy thing was a convenient backdrop, not really part of what the book was trying to discuss. My book club convinced me that it was more integrated into the novel than I had thought.