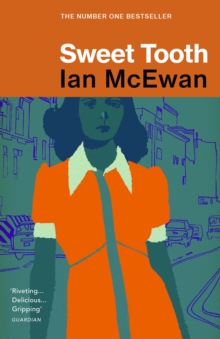 Description
The year is 1972, the Cold War is far from over and Serena Frome, in her final year at Cambridge, is being groomed for MI5.
Sent on Operation Sweet Tooth - a highly secret undercover mission - she meets Tom Haley, a promising young writer.
First she loves his stories, then she begins to love the man.
Can she maintain the fiction of her undercover life? And who is inventing whom? To answer these questions, Serena must abandon the first rule of espionage - trust no one.
Information
Format: Paperback
Pages: 384 pages
Publisher: Vintage Publishing
Publication Date: 01/05/2013
ISBN: 9780099578789
Other Formats
EPUB from £4.99
CD-Audio from £15.75
eAudiobook MP3 from £7.60
Free Home Delivery
on all orders
Pick up orders
from local bookshops
Reviews
Showing 1 - 4 of 4 reviews.
Review by peterveen
16/06/2015
Well written, sharply observed, but apart from the main character all other actorss remain somewhat sketchy which makes for an unusual (for McEwan)t flat narrative. As a whole enjoyable with a few surprises on the way.
Review by johnb123
16/06/2015
Brilliant return to form by McEwan, his best since "On Chesil Beach" with an intriguing, unexpected and even romantic ending. Also enjoyed the cameo short stories and mathematical puzzle both of which have their logical and essential place within the story.Whilst I have no idea of the prevalent culture within MI5 at that time (or any other time come to that), the snobby, vindictive pettiness rings true as does the depressing economic and political wasteland of that decade.
Review by sianpr
16/06/2015
While the twists and turns in the plot in this novel kept me guessing until the end, I found the two main characters had few redeeming features and so I got to the point where I didn't care too much about what happened to them. I also thought the representation of male-female relationships was truly depressing. I'm happy to cut the author some slack as the novel was set in the 1970s and the context is a male bastion of the time (MI5); however, does Serena have to be such an air head whose whole life revolves around finding and keeping self-centred egotistical men?
Review by Opinionated
16/06/2015
I suppose it was to be expected in a book where the main character loudly protests her dislike of literary tricks, that the book is based on one very large literary trick and one I was a bit annoyed I didn't see coming, as it was surely flagged about half way through. And to be honest it wasn't a trick I much admired.Reportedly Ian McEwan wanted to write a book about the 70s, an important part of his development and a time of social stagnation and political turmoil. He does this through the story of the 22 year old Serena Frome, low level MI5 operative - mainly a clerical worker - and her relationship with M15 and 3 important men in her life; academic Tony Canning who becomes her lover and recruits her to "the Secret Vote", agent Max Greatorex with whom she maintains a tangled and nervous personal and professional relationship, and Tom Haley the budding writer MI5 pay her to entrap, who also becomes her loverThe description of the pure misery of the English 70s is done well - as a child of the time I remember well the heating cuts, the 3 day week, the general feeling of "what did we bother winning a war for ", the stagnant politics, the cold, damp miserable flats, the IRA terrors and Britain's general slip as a world power as the hopeless Heath, tired and ill Wilson, and the miners disputed control of the country. The spy elements are good too and kept me engrossed; most secret work must have been dull, routine and boring. This brought to life wellIts the description of the relationship with Haley that doesn't quite work. Haley is quite clearly based on McEwan himself; he is at the University of Sussex, his short stories sound like McEwan's early work, sundry of McEwan's literary mates appear in character - Ian Hamilton, Martin Amis, Tom Maschler. He even looks like McEwan, although whether McEwan shared Haley's appeal to women only he will know. Nothing wrong with this of course but it sets a strange atmosphere - you keep wondering, did any of this really happen?And as for Serena herself, she comes across as shallow and vacuous and her motivations are poorly explained. Why on earth is she attracted to the unloveable Greatorex? Surely she can't shrug off her MI5 job in such a carefree way when with Haley? What is the purpose of her relationship with Shirley Shilling (and what is the point of Shilling anyway) ? Why on earth did Canning want to recruit a creature that seeming lives for novels, gin and orange, pub rock and basically goes to bed with anyone who is manly enough to approach her, to M15. Surely, she must be more complex than this ?The answer of course is that she probably is. Her vacuity, shallowness, lack of motivation and all round air of empty vessel waiting to be filled, are all part of the literary trick, and without a spoiler its hard to say much more about it. And there is a point to be made about how women were treated in the 70s, both in the workplace and in literature. An excellent point. But that doesn't necessarily a good novel makeSo I enjoyed the book, didn't really like being tricked, but was entertained. And McEwan is still eminently more readable than 90% of other authors. I am looking forward to when / if he devotes his energy to something more substantialI love Ian McEwan's writing, but since Atonement, his books have felt more like Graham Greene style "entertainments" than serious work.