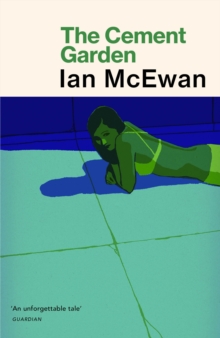 The Cement Garden
Paperback
Description
In the relentless summer heat, four abruptly orphaned children retreat into a shadowy, isolated world, and find their own strange and unsettling ways of fending for themselves...
Information
Format: Paperback
Pages: 160 pages
Publisher: Vintage Publishing
Publication Date: 05/06/1997
ISBN: 9780099755111
Other Formats
EPUB from £4.99
Paperback from £9.75
Free Home Delivery
on all orders
Pick up orders
from local bookshops
Reviews
Showing 1 - 5 of 5 reviews.
Review by soylentgreen23
16/06/2015
One you either like or loathe. I was expecting more sex, frankly, or at least more kinkiness. However, I can't really complain; McEwan paints a depressing picture of suburban British life - a proverbial cement garden in the midst or a real cement forest and so forth - and the depression is true to life, so I enjoyed it all.
Review by e.krepska
16/06/2015
'The Cement Garden' is a story about four young children whose father is dead and mother has just passed away. In fear of being taken away by social services and their house ruined as a result of that, the children keep the death of their mother secret and build a cement tomb for her in their cellar. The book gives a psychological portrait of this disrupted family. The relationships between the children vary between pure malice and pure love (finished with incest sex, ugh..). The relationship between the children and their parents revolves around general indifference with bias towards hate (to the father) or love (to the mother). Although the book is a very easy read and the reader is kept in fascination, I just failed to get the point of the story. It is extreme and morbid in all aspects, the best thing about this book - it's very short.
Review by Virtual_Jo
16/06/2015
A very strange but compelling and haunting novel about a family with an unusual secret hidden in the cellar. Hard to forget...
Review by whirled
16/06/2015
Pop quiz: you're a kid with three siblings whose Dad is already dead and now Mum has kicked the bucket as well - what do you do? Ian McEwan's answer to this morbid question reads like a more literate version of <i>Flowers In The Attic</i>, complete with incest and cross-dressing. The book is dark, grotty and mercifully brief. I'm not sure I'd want to meet the person who would call McEwan's debut his best work.
Review by nocto
16/06/2015
Slightly surreal, dark tale about a family of orphaned children. I loved it. Enchanting is a good word to describe it. I didn't realise it was McEwan's first book - I like it better than some of the later stuff and it's very well polished.