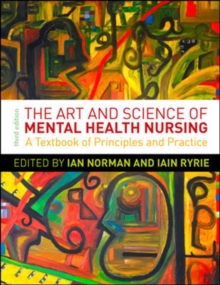 The Art and Science of Mental Health Nursing: Principles and Practice : A Textbook of Principles and Practice
Paperback
Description
This well-established textbook is a must buy for all mental health nursing students.
Comprehensive and broad, it explores in detail the many ways in which mental health nursing can have a positive impact on the lives of those with mental health problems. This book includes pedagogy to help students get the most out of each chapter and apply theory to practice in a rewarding way.
Chapters include:Case Studies: Based on real practice in a variety of settingsThinking Space: These will help you reflect on your practice and assess your learningQuotes from service users: These offer the service user perspective throughout the bookNew to this editionThis new edition is extensively revised throughout and has been extended from 35 to 42 chapters.
With 11 brand new chapters plus 14 chapters re-written by new authors, the book is brimming with updated material and new contributions.
The book now covers these additional topics:family workmotivational approachessolution focused therapymental health medication in practiceadmission and discharge planningworking with groups, families and carersworking with older service userscontinuing professional development andadvanced practiceContributors: Anne Aiyegbusi, Ryan Askey-Jones, Sally Askey-Jones, Paul Calaminus, Samantha Coster, Crispin Day, Julie Dilallo, Graham Durcan, Megan Ellis, Ann Gallagher, Lina Gega, Sue Gurney, Cheryl Kipping, Simon Lawton-Smith, Alison I Machin, Tony Machin, Niall McCrae, Sandra Moran, David Morning, Ian Noonan, Ian Norman, Kingsley Norton, Mary O'Toole, Jane Padmore, Caroline Parker, Jean Penny, Rachel Perkins, Karen Pilkington, Hagen Rampes, Julie Repper, Charlotte Roberts, Debbie Robson, Anthony Ross, Iain Ryrie, Jacqueline Sin, Susan Sookoo, Craig Thompson, Simon Westrip, Helen Wilde and Toby Williamson.
Student Reviews:"This book is a must have for anyone that studies within the mental health care setting.
It highlights simple ideas while also giving a realistic and more complex notion of what mental health is.
It brings to the forefront some issues that aren't normally discussed openly within society."Nathan Hicks, Mental Health Nursing Student, Anglia Ruskin University, UK"As a newly qualified mental health practitioner, this book has influenced my approach to clinical practice with a determination to integrate theory and practice.
Although, this has proven to be an impossible challenge at some times, adopting this book in the clinical environment will help me demonstrate a good understanding of the principles mental health nursing."Jean-Louis Ayivor, Newly qualified Mental Heath Practitioner"The 2nd edition of this book has been essential throughout all modules of my course and was a useful guide to dip into when my knowledge base was challenged in placement areas.
This 3rd edition brings additional and up-to-date information which will see me through to the end of my training and beyond into practice as a qualified nurse."Julie Sheen, Mental Health Nursing Student, University of Essex, UKOther Reviews:"I am delighted to offer an enthusiastic endorsement for the 3rd edition of this important book.
First producedin 2004, significant changes in the delivery of mental health services, our understanding of productive ways of working with a population in need and the importance of the services user perspective have all been readdressed in this most recent revised edition.
The previous editions were very well received and this most recent version offers important revisions and added value to what was already a well founded and essential textbook for both students and qualified practitioners. The book is cleverly structured, easily read and presented with clarity by the impressive range of contributing authors.
The Editors and Authors are to be congratulated for this important updated edition. I have little doubt that this 3rd edition will be as successful as the first and second.
I see it as essential reading for students undertaking nursing undergraduate programs and it has value both for mental health and general nurse undergraduate programs.
It also provides an important 'refresher' for those undertaking professional development and update courses.
I feel able to recommend it with confidence to this broadaudience."Emeritus Professor Tony Butterworth CBE. FMedSci, FRCN, FQNI, FRCPsych FRSA. Interim Chair, NHS Institute for Innovation and Improvement Chair, Foundation of Nursing Studies"The 3rd Edition must succeed the 2nd as a core text for mental health nurse students and experienced nurses alike.
This considerable feat is achieved, in no small part, by virtue that the Editors have a clear picture of what constitutes mental health nursing and have an insightful way of organizing this wonderful world of mental health nursing.
The expertise of the contributors, and the guidance and advice offered in their contributions, ensures this text provides all qualified mental health nurses with an invaluable practical resource to be consulted on an on-going basis.
This is a text which needs to be available in copious numbers in any library supporting a pre-registration nursing training, but also deserves a place in any productive clinical team delivering mental health nursing."Simon McArdle, University of Greenwich, UK"This book is certainly one of the key textbooks I would recommend to all mental health nursing students and practitioners in the UK.
It captures both the 'art' and 'science' of our profession and this current edition articulates extremely well the service user perspective and changing policy context in which mental health nurses practice.
The scope of the book is admirable and from a pedagogical perspective many of the chapters include 'applied case studies' or 'reflective thinking spaces' which illuminate and make real the often complex nature of mental health nursing."Dr Andrew Clifton, Huddersfield University, UK"An incredibly useful and insightful book for those working within the field of mental health, this 3rd edition deconstructs and discusses a variety of topical principles, practices and perspectives that underpin mental illness and mental health nursing.
The structure and presentation of the subject matter allow the book to meet both current curriculum and workforce development needs for students and qualified staff.
The further development and discussion around the areas of Service Development, Older Person, TherapeuticRelationship, Continuing Professional Development, Talking Therapies and Alternative Therapies were particularly useful and impressive."Brian Bell, University of Wolverhampton, UK"This is a contemporary text drawing on the practical aspects of what it is to be a Mental Health Nurse underpinned by the available evidence base.
This 3rd edition builds upon earlier versions and situates the person as the focus.
It reflects the contemporary context of Mental Health Nursing practice, which requires technical skills whilst engendering the message that the society we care for require compassionate nurses.
I believe this balance is achieved through consideration of the art and science of Mental Health Nursing, and is packaged in a user friendly text which will be a reliable point of reference."Dr Shelly Allen, University of Salford, UK"Can one book draw together the collective knowledge of a profession that has evolved over the last century?
The answer is "no", but Norman and Ryrie's The Art and Science of Mental Health Nursing probably gets as close to this as possible.
This comprehensive third edition has more chapters, which are more succinct than the previous edition, with a detailed contents page that makes it easier to use as a reference book.
Drawing on a wide variety of authors, the book is coherent and well-edited and underpinned by an optimistic, recovery-focused approach to mental health nursing. The different parts to the book represent a range of conceptual approaches to understanding mental health nursing, which covers the material in an interesting and informative way.
The frequent use of scenarios and "thinking spaces" encourages application of theory to practice and I will be recommending this as a core text within the mental health specific modules."John Westhead, Staffordshire University, UK
Information
Format: Paperback
Pages: 728 pages, Illustrations
Publisher: Open University Press
Publication Date: 16/04/2013
Category: Psychiatric nursing
ISBN: 9780335245611
Free Home Delivery
on all orders
Pick up orders
from local bookshops