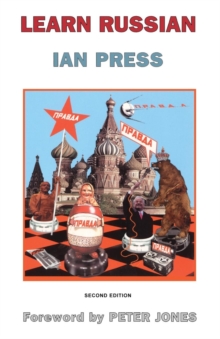 Description
Aiming to provide an all-round and accessible description of the language, this book gives a presentation of grammar as an intellectual exercise and lots of drills and exercises which are intended to be stimulating and interesting.
The best of the language, namely extracts from works of many of its inimitable writers, is used among much else: Pushkin, Gogol', Dostoevsky, Tolstoy, Chekhov, Bulgakov, Mandel'shtam, not to forgoet Kharms.
The overriding aim is to set everything in an entertaining, real, and enlightening historical, cultural and social context - to give learners what they actually want to know about Russian (but are usually afriad to admit to).
It also sets out to describe everything in such a way that the dread moment in so many books when everything becomes incomprehensible simply doesn't happen here. "Learn Russian" will not teach you how to buy an ice-cream or ask direction to the Kremlin but it will give anyone the opportunity to read some of Russia's greatest literature in the original along with learning something of the historical, cultural and social context.
Information
Format: Paperback
Pages: 226 pages, black & white illustrations
Publisher: Duckworth Overlook
Publication Date: 24/02/2000
Category: Grammar & vocabulary
ISBN: 9780715629130
Free Home Delivery
on all orders
Pick up orders
from local bookshops