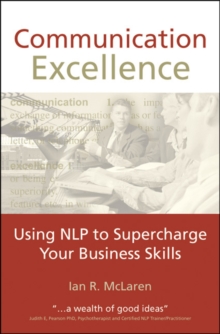 Communication Excellence : Using NLP to Supercharge Your Business Skills
Paperback / softback
Description
Are you an effective communicator? Do you always convey the correct message, or do you sometimes feel that you are not fully understood? This book provides a ten-lesson course that will transform you into an excellent communicator.
Drawing on psychology, linguistics and Neuro-Linguistic Programming, it teaches you how to interact effectively with colleagues, bosses, officials, family and friends.
Providing invaluable training in key NLP-based methods, Communication Excellence presents powerful exercises that will increase your ability to manage, market, sell, influence, inspire, innovate.
Information
Format: Paperback / softback
Pages: 240 pages
Publisher: Crown House Publishing
Publication Date: 18/05/1999
Category: Psychology
ISBN: 9781899836390