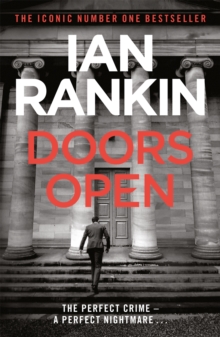 Description
A fantastic stand-alone thriller from the No.1 bestselling author.Mike Mackenzie is a self-made man with too much time on his hands and a bit of the devil in his soul.
He is looking for something to liven up the days and settles on a plot to rip-off one of the most high-profile targets in the capital - the National Gallery of Scotland.So, together with two close friends from the art world, he devises a plan to lift some of the most valuable artwork around.
But of course, the real trick is to rob the place for all its worth whilst persuading the world that no crime was ever committed...
Information
Format: Paperback
Pages: 416 pages
Publisher: Orion Publishing Co
Publication Date: 01/07/2009
Category: Crime & mystery
ISBN: 9781409102014
Free Home Delivery
on all orders
Pick up orders
from local bookshops
Reviews
Showing 1 - 5 of 5 reviews.
Review by jimrbrown
16/06/2015
I have thoroughly enjoyed the Rebus series over 20 years and had to read this novel. It is different to the Rebus books, lighter and less personal, but that's not a bad thing. It was a slow starter but after halfway I found it difficult to put down (always a good sign for me). I liked the characters, especially Mackenzie, although his motives for getting involved were not very believable. The ending also stretched the imagination a bit. 4 out of 5 (Rebus normally scores 4.5 to 5 for me).
Review by edwardsgt
16/06/2015
Rankin's first post-Rebus novel, which inhabits the same Edinburgh locations, but this time with a new cast of characters, the main one being Mike Mackenzie, a retired software millionaire with time on his hands and not enough challenges. He decides to create the perfect art heist, but makes the mistake of recruiting a former school acquaintance, now a leading member of Edinburgh's crime fraternity. Good plotting keeps you turning the pages to the end.
Review by Smiler69
16/06/2015
Mike Mackenzie, a self-made software mogul, is rich and bored and looking for excitement. He's become somewhat of an art connoisseur while spending him time in auction houses and building up a private collection of Scottish art. With all his millions, there is one portrait he wants which he can't have since it belongs to the national collection. Until one day one of his friends, the head of the local college of art Robert Gissing, approaches Mike with a plan for the perfect crime. They will steal works of art from the national archive on 'Doors Open' day, a special yearly event when various institutions open their doors to the public. The brilliance of Gissing's plan is that the theft will go undetected since they will simply substitute the works of their choosing with copies made to order by a talented art student. Mike is tempted to go along with it, but the only thing holding back the gang is their lack of criminal experience and access to weapons and vehicles. When Mike runs into an old school mate, 'Chib' Calloway—who just happens to be Edinburgh's head of organized crime—it seems like all the elements have fallen into place to perform the heist of his dreams. This was an amusing enough premise, but I can't say there were all that many surprises along the way. Everything just seemed to fall into place a little bit too easily and then there were a few truly cringe-worthy sections such as a bit of dialogue when an inspector of police meets his informant—one of 'Chib' Calloway's bodyguards—in a café. They're sitting at different tables and talking on their mobile phones so they won't be spotted together while exchanging sensitive information. I was wondering why they'd even be in the same establishment if they're worried about detection but then things got truly ridiculous when they started discussing the merits of the drinks they were having, as if they were two girlfriends taking a break during a shopping session. Maybe that was Rankin's sense of humour at work and I missed the point for all I know. I won't say this is a must-read, but as far as brain candy goes, it's a fine way to spend a few easy reading hours.
Review by Vivl
16/06/2015
I found this a great read and so have been surprised to read less than brilliant reviews from other readers. Rebus on TV was my only prior knowledge of Rankin. If this is an example of his second-best writing, I have a lot to look forward to. I plan to start from book one in the Rebus series. Great, another lengthy collection to add to my "must read before I die" list, and the years are flying by.
Review by Ant.Harrison
16/06/2015
Ian Rankin's Doors Open is a heist-cum-caper story set in contemporary Edinburgh, and his first novel since he announced that he was not planning to write any more Rebus stories. A group of middle class academics and a banker get involved in planning and executing the 'perfect crime' – a plan to 'steal' artworks from galleries across Edinburgh whilst they're not on public display. Like most stories of this kind, it doesn't turn out to be as straightforward as first planned, and events soon start to spiral out of control. There's the obligatory Rankin stock characters – the disgruntled police officer and a local small-time crook that has delusions of grandeur by believing he's actually Edinburgh's Mr Big. The ending's just about OK, but nothing spectacular, and at times I had to force myself to care enough about these lacklustre individuals enough to finish the book.<br /><br />The writing was fairly low-key – no stylistic challenges to be found here – with a somewhat wearing use of copious amounts of dialogue to explain the plot and keep things moving. I would assume that this is a book that could easily be adapted into a fairly uninspiring ITV drama, as there would be relatively little for the screen writer to do when adapting it for the screen. I can't really recommend this, except that it's an easy read, great for a long train journey say, when it doesn't matter if your attention wanders, or you're distracted by the noisy family across the aisle.<br /><br/>© Koplowitz 2012