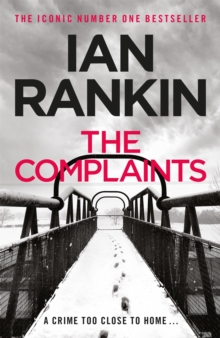 Description
'On the evidence of THE COMPLAINTS it looks as if Fox will be just as sure-footed a guide to the city as his grizzled predecessor' DAILY EXPRESS.Nobody likes The Complaints - they're the cops who investigate other cops.
Complaints and Conduct Department, to give them their full title, but known colloquially as 'the Dark Side', or simply 'The Complaints'.
Malcolm Fox works for The Complaints. He's just had a result, and should be feeling good about himself.
But he's middle-aged, sour and unwell. He also has a father in a care home and a sister who persists in an abusive relationship.
In the midst of an aggressive Edinburgh winter, the reluctant Fox is given a new task.
There's a cop called Jamie Breck, and he's dirty. Problem is, no one can prove it. But as Fox takes on the job, he learns that there's more to Breck than anyone thinks.
This knowledge will prove dangerous, especially when murder intervenes.
Information
Format: Paperback
Pages: 496 pages
Publisher: Orion Publishing Co
Publication Date: 01/08/2010
Category: Crime & mystery
ISBN: 9781409103479
Free Home Delivery
on all orders
Pick up orders
from local bookshops
Reviews
Showing 1 - 3 of 3 reviews.
Review by malcrf
16/06/2015
A real return to form, great character, compelling read, excellent
Review by -Eva-
16/06/2015
Malcolm Fox works in the Professional Standards Unit of the Complaints and Conducts Department and investigates, nay, spies on other cops for a living. Needless to say, Fox is not a popular guy, which he can live with, but when his family is attacked, he has to do something about it. It's inevitable that Fox will be compared to Rebus, the question is: how well does he hold up? Fairly well, I'd say. He's not as funny since he doesn't have the same irreverence, but Fox is quite interesting in his own rights. A bit "slow but steady, and only occasionally to be feared" which turns out to be when his reputation and his family is in danger. A twist on Rebus without the alcohol and the dark mind and who thinks before he acts could be an apt description - what they have in common is their sense of justice, although Fox will go the official route and Rebus take things into his own hands. The story gets a little convoluted at the end, but all in all it's an intriguing mystery and Rankin's talent for writing great dialogue shines on as ever.
Review by DeltaQueen50
16/06/2015
It's been awhile since I have read Ian Rankin and I had forgotten just how good he is at writing police procedurals. The Complaints is the first volume of his series about the Complaints Department, featuring Inspector Malcolm Fox. The Complaints and Conduct Division is where police misconduct is investigated, much like North America's Internal Affairs, and as such, the members are not the most popular. Having just assembled enough evidence to bring a corrupt detective to justice, Malcolm Fox isn't given much time to rest on his laurels. Fox has a lot on his plate with an aging father in a long term care home, and a sister who is hiding the fact that her boyfriend is beating her. Now he is being asked to join in an investigation of another detective, Jamie Breck, who is possibly involved in a child pornography ring. Then his sister's abusive boyfriend is murdered, Breck is assigned to the case, and Malcolm Fox is possibly a suspect. As Fox gets closer to Breck, he realizes that something is off, and before too long both he and Breck find themselves under suspension and accused of misconduct. No matter where he looks, he finds trouble and suspicion. He realizes that someone is pulling the strings to bring about his downfall and if he wants his life back, he has to work with Breck and find out who his enemy is.Although I didn't find Malcolm Fox as interesting a character as John Rebus, this is only the first book and I trust Ian Rankin will fully develop this character as he did with Rebus over the course of many books. I found this convoluted plot engaging and attention holding and made me realize how much I have been missing this author.