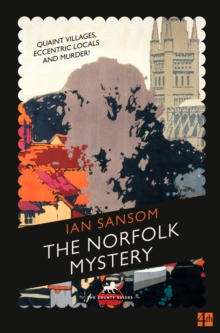 The Norfolk Mystery
Paperback
Description
Love Miss Marple? Adore Holmes and Watson? Professor Morley's guide to Norfolk is a story of bygone England; quaint villages, eccentric locals - and murder!It is 1937 and disillusioned Spanish Civil War veteran Stephen Sefton is stony broke.
So when he sees a mysterious advertisement for a job where `intelligence is essential', he applies.Thus begins Sefton's association with Professor Swanton Morley, an omnivorous intellect.
Morley's latest project is a history of traditional England, with a guide to every county.They start in Norfolk, but when the vicar of Blakeney is found hanging from his church's bellrope, Morley and Sefton find themselves drawn into a rather more fiendish plot.
Did the Reverend really take his own life, or was it - murder?Beginning a thrilling new detective series, `The Norfolk Mystery' is the first of The County Guides.
A must-read for fans of Sir Arthur Conan Doyle and Agatha Christie, every county is a crime scene and no-one is above suspicion!
Information
Format: Paperback
Pages: 336 pages
Publisher: HarperCollins Publishers
Publication Date: 01/07/2014
Category: Crime & mystery
ISBN: 9780007360482
Other Formats
EPUB from £3.99
eAudiobook MP3 from £9.59
Free Home Delivery
on all orders
Pick up orders
from local bookshops
Reviews
Showing 1 - 2 of 2 reviews.
Review by jtck121166
27/08/2015
'Sherlock Holmes with a dash of Lord Peter Wimsey' indeed? Well, hardly: unless we are speaking of the author, whose encyclopaedic knowledge of trivia and Latin tags, as put in the mouth of his protagonist, the autodidact and polymath, 'People's Professor' Swanton Morley, certainly challenges that of Holmes himself; and the whole enterprise on Sansom's part is nothing if not whimsical ...But what fun we have with Morley and his sidekick, our narrator Stephen Sefton, mainly at the expense of such characters and their 'golden age' setting. It's a joke, and it looks as if not everybody gets it.The icing on the cake, and yet, too, the fly in he ointment of this particular confection, is of course the simultaneously attractive and repellent Swanton Morley himself. Are we meant to admire him - or condemn him? Sefton doesn't seem too sure, either, now impressed, now exasperated by this employer.In his Mobile Library novels, Ian Sansom developed a wonderful conceit whereby the hero would routinely uncover the deepest wells of knowledge and experience behind the unlikeliest and most unprepossessing net curtains (etc.) on the North Antrim coast. His Swanton Morley seems to have been born of a similar idea, but now sustained over a whole novel. Some of my fellow reviewers here obviously feel this is asking rather a lot, but I think Sansom just about gets away with it.
Review by Helenliz
27/01/2016
This had its moments, but I'm not sure that it lived up to the blurb on the cover. That described this as being a sort of mashup of Sherlock Holmes and Peter Wimsey. Whatever that might mean, it didn't match up in my imagination to what the book actually contained. The book is narrated by Stephen Sefton, a veteran of the Spanish civil war and at the end of his tether applies for a job as assistant to Swanton Morley. This character is a working class man who has made his way in the world and has earnt the tag "the people's professor". He's written an awful lot of books and is setting out to write a set of books, the County guides, one per county, capturing the history, character and culture of each county. The plan is to spend about 6 weeks in each county, so churning out the books in double quick time. On the tour of Norfolk, he arrives in Blakeney to use this as a base to visit churches and the towns and villages of the North Norfolk coast. Only in the first church they visit, the come across the vicar, hanging dead in the belfry. It all gets a bit convoluted, is this murder, who had a motive, why did the maid commit suicide as well? He manages to attract a significant amount of hostility to himself, by his manner, his questions and his massively annoying traits (the Latin tags was enough to put my back up). It manages to be convincingly set in the lats 30s. The Holmes I can see, Morley is full of information, but there's none of the charm of Wimsey. Sefton has some life and interest and his narration is light hearted, he feels exasperation and admiration for Morley in almost equal. But as a whole, it felt a little like poking fun at all of the locals, it didn't feel very kind.
Also in the The County Guides series | View all