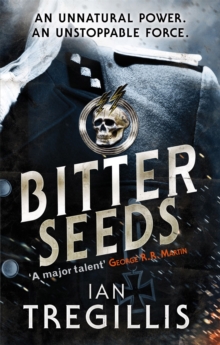 Description
The year is 1939. Raybould Marsh and other members of British Intelligence have gathered to watch a damaged reel of film in a darkened room.
It appears to show German troops walking through walls, bursting into flames and hurling tanks into the air from afar. If the British are to believe their eyes, a twisted Nazi scientist has been endowing German troops with unnatural, unstoppable powers. And Raybould will be forced to resort to dark methods to hold the impending invasion at bay. But dealing with the occult exacts a price. And that price must be paid in blood. Ian Tregillis' Bitter Seeds is a chilling masterpiece - a tale of a twentieth century like our own and also profoundly different.
Information
Format: Paperback
Pages: 432 pages
Publisher: Little, Brown Book Group
Publication Date: 01/07/2012
Category: Fantasy
ISBN: 9780356501697
Free Home Delivery
on all orders
Pick up orders
from local bookshops
Reviews
Showing 1 - 1 of 1 reviews.
Review by patrickgarson
16/06/2015
Bitter Seeds is a frustating book. Its many strengths are offset by some fairly fundamental weaknesses and an infuriating finish which put a real dampener on my enthusiasm to read more of the series. The story can be summed up quickly: WWII with literal ubermenschen (for the Germans) and Lovecraftian horrors (for the British). It's a catchy hook, and Tregillis does a wonderfully spooky job in setting it up. The eldritch, cosmic horrors, and the broken, destructive children used by the Germans. The plot also rips along quite quickly - the novel encompasses the whole of WWII, so there's plenty of action. Sometimes, even a little too much as a few quieter moments or leavening could have gone a long way. Nonetheless, the setting succeeds, in large part because Tregillis is committed to his alt-history in a way too many writers aren't. The implications of these 'catchy' ideas, so far as they pertain to warfare, are horrific - and Tregillis follows through with those implications. It indicates a level of familiarity with real WWII atrocities. At the same time, this strength also becomes a weakness when coupled with some other mis-steps. So much death and human misery does not make for very happy reading. There's no levity in bitter seeds, nor even some light and shade. It leaves the reader feeling empathy for - but also much like - people in wartime: exhausted, depressed, fearful, gray. Perhaps this wouldn't have been so noticeable, if Tregillis characterisation was both stronger and more varied. Unfortunately, for a book spanning an entire world war, it only has about four major characters. Worse, with one exception, they are all quite similar. Bitter Seeds is a book almost wholly devoid of women, and certainly devoid of women in any meaningful roles (bar one). The men the novel follows for its bulk are quite similar, their lines and reactions, in part because of the action orientated plot, could well be interchangeable, and their moral/mental/physical declines are predictable, and depressing. But I could forgive all this for the strengths of the book, barring one unconscionable thing: the ending. Reader be warned - Bitter Seeds has no ending. The book doesn't end, nothing is resolved, no arcs are completed, nothing. This isn't a novel, it's the first third of a novel, and realising that on the last page was infuriating. I am not against a series, but you need to have smaller narratives within a greater one - and Bitter Seeds absolutely does not. Nothing set up in this book is finished by its conclusion, and after putting up with so much misery and turmoil, the lack of catharsis is frustrating. I paid for a book, not a chapter. I don't know if I can be bothered with the sequel; the promise of more of the same is not very alluring to me.
Also in the Milkweed Triptych series | View all