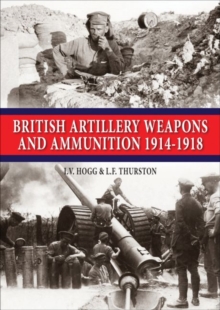 British Artillery Weapons and Ammunition 1914-1918
Paperback / softback
Description
First published in 1972, British Artillery Weapons & Ammunition 1914-1918 is the definitive account of British artillery from World War I.
It meticulously catalogues all known types of artillery weapons that were in British service at the commencement of WWI and the new machinery that was created for the battlefield during the following four years.
In addition, it lists the wide variety of coastal defense weapons and old nineteenth century veteran machines that were wheeled out of retirement in readiness for active service if necessary.
The details of ammunition are also covered, including dimensions of cartridge cases and the different ammunition types for each artillery weapon listed. This new edition, featuring previously unpublished photographs and a foreword by Peter Simkins, distinguished historian and professor at the University of Birmingham, will be useful for military historians and weapons collectors alike.
Information
Format: Paperback / softback
Pages: 230 pages
Publisher: Unicorn Publishing Group
Publication Date: 01/01/0001
Category: First World War
ISBN: 9781908487124