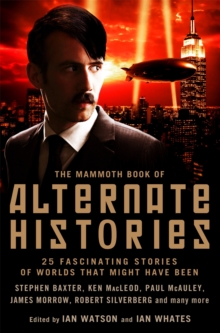 The Mammoth Book of Alternate Histories
Paperback
Description
Every short story in this wonderfully varied collection has one thing in common: each features some alteration in history, some divergence from historical reality, which results in a world very different from the one we know today.
As well as original stories specially commissioned from bestselling writers such as James Morrow, Stephen Baxter and Ken MacLeod, there are genre classics such as Kim Stanley Robinson's story of how World War II atomic bomber the Enola Gay, having crashed on a training flight, is replaced by the Lucky Strike with profoundly different consequences. Praise for the editors: 'Mr Watson wreaks havoc with what is accepted - and acceptable.' The Times 'One of Britain's consistently finest science fiction writers.' New Scientist
Information
Format: Paperback
Pages: 608 pages
Publisher: Little, Brown Book Group
Publication Date: 25/02/2010
Category: Fantasy
ISBN: 9781845297794
Free Home Delivery
on all orders
Pick up orders
from local bookshops
Reviews
Showing 1 - 1 of 1 reviews.
Review by john257hopper
16/06/2015
A mixed section of stories, but overall I found this disappointing. I think alternate history generally does not flourish within the short story format as it needs more room to breath and create its alternative version of history in a way that explains itself in sufficient detail to convince.My favourite stories in this collection were the four below, three of which are by legends in the SF/alternate history fields. The rest were a mixed collection of tales, some reasonable, others dull and unengaging.The Lucky Strike (Kim Stanley Robinson)The pilot due to drop the atomic bomb on Japan dies in an air accident and his place is taken by another who has doubts about his mission and deliberately drops the bomb on uninhabited land away from Hiroshima. He is court marshalled and shot but the Japanese surrender due to the power of the demonstration and the post-War world is largely non-atomic. Powerful stuff though not sure it is too realistic in terms of the Japanese surrender.Islands in the Sea (Harry Turtledove)A fascinating exploration of the clash of religions. Constantinople has fallen to Islam in the 8th century of the Christian era instead of the 15th. The Khan of the Bulgars summons Islamic and Chistian thinkers to present to him the arguments for their respective religions and he will make his choice, affecting the future development of history. As this is alternate history, he chooses Islam and Christianity is restricted to western Europe, with the momentum in Islam's favour.The Einstein Gun (Pierre Gevart)The assassination of Franz Ferdinand fails and WWI never happens. As Emperor he appoints Hitler as Chancellor in 1934 and repression against the Jews begins and world war looms in 1945. A Jewish university lecturer, dismissed from his job, is friends with Einstein, in exile in socialist France. Einstein has invented a primitive time machine,which the ex-lecturer hopes touse to assassinate Franz Ferdinand in Sarajevoin 1914 and thereby prevent this repression and drive to war....Tales from the Venia Woods (Robert Silverberg)The Roman Empire lasted 2000 years and was then overthrown by the Second Republic. The last survivor of the imperial family is an old man hiding deep in the woods. This is one of a series of stories set in this alternate universe created by Robert Silverberg.