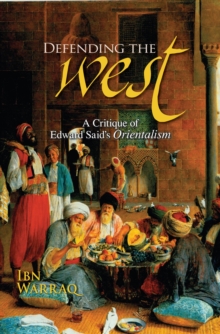 Defending The West
Hardback
Information
Format: Hardback
Pages: 556 pages
Publisher: Prometheus Books
Publication Date: 01/01/2007
Category: Literary studies: general
ISBN: 9781591024842
Free Home Delivery
on all orders
Pick up orders
from local bookshops
Reviews
Showing 1 - 2 of 2 reviews.
Review by juglicerr
16/06/2015
Ibn Warraq has created a powerful critique of Said's <i>Orientalism</i>, approaching the subject from several angles. He begins the book with a slightly rewritten essay that contains the essentials of his points. He then proceeds to hammer home a vast array of evidence that Said has ignored or twisted. I despair of being able to due justice to this book.Ibn Warraq considers the West, which he credits, at its best, with three unusual and valuable traits: rational thought, universalism, and self-criticism. He criticizes Said for being unwilling to admit that Westerners often explore topics simply out of a desire to know things, rather than for an practical purposes, let alone the nefarious motives that Said attributes to them. Westerners began studying "the Orient" at times when they had no imperialistic designs. Ibn Warraq argues that Europeans varied in their attitudes towards other cultures and did not simply lump all non-Europeans, or even all Asians into an undifferentiated mass. Indeed, Europeans have often written admiringly of other cultures, and found themselves lacking by comparison.Ibn Warraq also sharply criticizes Said's methodology, accusing him of ignoring or twisting anything that does not suit his purposes. One point that he makes is that although the West is guilty of slavery and imperialism, it is hardly the only collection of cultures that is. He also sharply criticizes Said's writing style which often obscures more than enlightens, or is as meaningless as it is indignant. Said finds it somehow, in some unexplained way, sinister that Europeans declared a link between Sanskrit and European languages such as Latin and Greek. Warraq quotes Indian scholars at great length. Even some who are quite anti-British nonetheless admit that the British rediscovered the history of ancient India, and ironically, thus encouraged a sense of nationalism that lead to Indian independence. An excellent book, vastly more readable than <i>Orientalism</i>, and far more powerful.
Review by quantum_flapdoodle
16/06/2015
A Muslim apostate takes on Said's Orientalism, standing up for the values of western civilization that he feels have allowed him (and Said) to have the freedom to speak their mind. He suggests that without western civilization's tolerance and acceptance, Said would not have the ability to speak out in criticism of the west, and become such a big name. A valuable corrective to the claim that it is always the west that is wrong, and a great deal of food for thought.