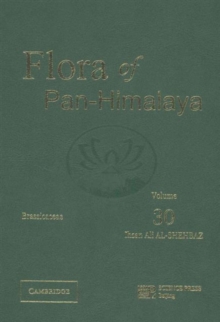 Flora of the Pan-Himalaya : Brassicaceae Series Number 30
Hardback
Description
Volume 30 of the Flora of Pan-Himalaya is devoted to the mustard family (Brassicaceae or Cruciferae).
The Brassicaceae is one of the most natural plant families, and it is distributed on all continents except Antarctica, though mainly in the temperate, alpine, and subarctic areas.
The highest diversity of the family is in the Irano-Turanian region, followed by western North America, the Mediterranean region, the Andes of South America, and the Himalayan region.
The nomenclatural novelties in this volume include the new species Lepidium densipuberulum and Sisymbrium nepalense, and the new name L. cuneiforme. Furthermore, the lectotypes of Aphragmus tibeticus, A. stewartii, Braya rubicundula, Cardamine calcicola, C. impatiens var. elongata, C. weixiensis, Draba lichiangensis, Eutrema deltoideum var. grandiflorum, E. przewalskii, E. sherriffii, Hemilophia serpens, Noccaea cochlearioides, Parrya chitralensis, Pyconplinthus uniflora, Solms-laubachia minor, and S.-L. xerophyta are newly designated.
Information
Format: Hardback
Pages: 612 pages
Publisher: Cambridge University Press
Publication Date: 28/07/2016
Category: Botany & plant sciences
ISBN: 9781107158986
Free Home Delivery
on all orders
Pick up orders
from local bookshops