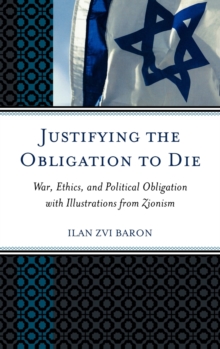 Justifying the Obligation to Die : War, Ethics, and Political Obligation with Illustrations from Zionism
Hardback
Description
One of the state's key features is its ability to oblige its citizens to risk their lives on its behalf by being sent into war.
However, what is it about the state (or its equivalent) that makes this obligation justifiable?
Justifying the Obligation to Die is the first monograph to explore systematically how this obligation has been justified.
Using key texts from political philosophy and just war theory, it provides a critical survey of how this obligation has been justified and, using illustrations from Zionist thought and practice, demonstrates how the various arguments for the obligation have functioned. The obligation to risk one's life for the state is often presumed by theorists and practitioners who take the state for granted, but for the Zionists, a people without a state but in search of one and who have little history of state-based political thought, it became necessary to explain this obligation.
As such, this book examines Zionism as a Jewish political theory, reading it alongside the tradition of Western political thought, and critiques how Zionist thought and practice sought to justify this obligation to risk one's life in war-what Michael Walzer termed "the obligation to die." Finally, turning to the political thought of Hannah Arendt, the author suggests how the obligation could become justifiable, although never entirely justified.
For the obligation to become at all justifiable, the type of politics that the state enables must respect human diversity and individuality and restrict violence so that violence is not a continuation of politics.
Information
Format:Hardback
Pages:296 pages
Publisher:Lexington Books
Publication Date:16/05/2009
Category:
ISBN:9780739129739