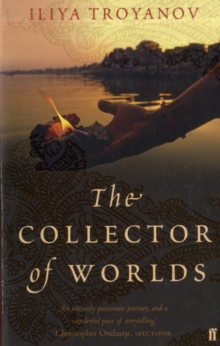 The Collector of Worlds
Paperback
Description
"The Collector of Worlds" is a rare combination of literary achievement and popular accessibility.
A bestseller in Germany, the novel tells the story of Sir Richard Burton, one of the most flamboyant figures of the Victorian age.
Burton was the first westerner to make the hajj to Mecca, and discovered the source of the Nile with Speke.
His translation of the "Arabian Nights" is one of the great moments in the encounter between Islam and the West, a version of the Arab classic that scandalised his contemporaries with its salty eroticism.
Troyanov's novel does full justice to this great, controversial mediator between cultures.
The book imagines his encounter with India as a young officer, and other episodes in his life are seen through the eyes of his Indian servant; the Sharif of Mecca, who is conducting an enquiry into Burton's audacious journey and its consequences for the Ottoman Empire; and a former slave who guided Burton to the Nile.
Information
Format: Paperback
Pages: 464 pages
Publisher: Faber & Faber
Publication Date: 05/03/2009
Category: Classic fiction (pre c 1945)
ISBN: 9780571236541
Free Home Delivery
on all orders
Pick up orders
from local bookshops
Reviews
Showing 1 - 1 of 1 reviews.
Review by irkthepurist
16/06/2015
I've had this for ages under the wrong author! D'oh! Anyway, here's the review I had under Iliya Trojanov rather than Troyanov:Oh I've felt guilty about this - grateful as I am to get an early review copy of the book, by god was it a struggle to wade through. I know Richard Burton as a fictional character because of Philip Jose Farmer's Riverworld sequence and even in books like those, which are obviously pretty straightforward compared to what Trojanov is doing, Burton comes across as a tit. What I've read about the man himself never appeals and I'm beginning to come to terms with the fact that remarkable man he may have been, I'm never going to see Richard Burton as a terribly interesting individual. At least with the Riverworld books you've got the light relief of a Mark Twain or even - of all people - Goering to cling to when Burton's getting annoying, but sadly not here. I can tell Trojanov is an excellent writer, and even though I found the book a bit of a weary trudge there were sequences and elements of the book that I found very haunting indeed... but in the end it's always going to be a battle to wade through a book where you just don't care very much about the central character. So again, I'm left to apologise because I felt the book was probably more deserving to someone a bit more open minded than me. But if you like Richard Burton you may well enjoy this a good bit more than I did.Sorry!