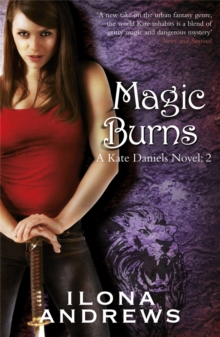 Magic Burns : A Kate Daniels Novel: 2
Paperback
Description
Down in Atlanta, tempers - and temperatures - are about to flare ...As a mercenary who cleans up after magic gone wrong, Kate Daniels has seen her share of occupational hazards.
Normally, waves of paranormal energy ebb and flow across Atlanta like a tide.
But once every seven years, a flare comes, a time when magic runs rampant.
Now Kate's going to have to deal with problems on a much bigger scale: a divine one.When Kate sets out to retrieve a set of stolen maps for the Pack, Atlanta's paramilitary clan of shapeshifters, she quickly realizes much more is at stake.
During a flare, gods and goddesses can manifest - and battle for power.
The stolen maps are only the opening gambit in an epic tug-of-war between two gods hoping for rebirth. And if Kate can't stop the cataclysmic showdown, the city may not survive ...
Information
Format: Paperback
Pages: 288 pages
Publisher: Orion Publishing Co
Publication Date: 31/07/2010
Category: Fantasy
ISBN: 9780575093942
Free Home Delivery
on all orders
Pick up orders
from local bookshops
Reviews
Showing 1 - 2 of 2 reviews.
Review by Elysianfield
16/06/2015
3.5 stars<br/><br/>Someone stole maps from the pack and Kate promised as a favour to retrieve them. Some mysterious guy just keeps getting into her way and tries to stop her. Kate meets young girl and helps Julie to find her missing mother. And sparks continue to fly between Kate and Curran.<br/><br/>I really like Kate and she's a great heroine. She can seriously kick ass and she stands up to Curran, the Best Lord of Shapeshifters. They annoy the crap out of each other but you can see there's something between them. I love that it's not love/lust at first sight-kind of thing between them. <br/><br/>I can see myself becoming total Curran fangirl but I can't help myself! I wish there was more Curran and I love the interaction between him and Kate.<br/><br/><blockquote>"Not only will you sleep with me, but you will say 'please.'"<br/>I stared at him, shocked.<br/>The smile widened. "You will say 'please' before and 'thank you' after."<blockquote> <br/>Pg. 184<br/><br/>More Curran for me, please!<br/><br/>I was happy to see Derek again. It will be interesting to see how far he will climb because he showed power growing.<br/><br/>And I hope we learn more about Kate and her powers. Things are hinted but never explained and I hope we get some answers at some point.<br/><br/>I liked the book and can't wait to see what way the books will go. I've heard the books get only better so can't wait!
Review by Lauren2013
16/06/2015
Magic Burns
4.5 Stars

An exciting and fast paced plot with well-developed characters and intense world building.

The Kate Daniels books are rapidly becoming my favorite UF series. Kate is a kick-ass heroine who inadvertently finds herself looking out for a young girl whose mother has disappeared. As she follows the bizarre clues, Kate must contend with Celtic Gods and their minions who are determined to gain a foothold on Earth while at the same time fighting her feelings for Curran, the Beast Lord of the shape-shifters.

The post-apocalyptic world established in book #1 is fleshed out more in this installment as magic grows in power due to the Flare, which occurs once every seven years. The dark and gritty descriptions of modern civilization's gradual decay as a result of succumbing to the power of magic are original and absorbing.

The incorporation of entities from Celtic mythology adds an extra layer of suspense to the mystery surrounding the disappearance of the witch coven. While this storyline is exhilarating and action-packed, the resolution is only partially complete as it is never 100% clear what happened to Julie's mother and the other members of her coven. That said, the villains are suitably disgusting and disturbing, and the ultimate confrontation between the forces of good and evil at the climax of the book is well-written and thrilling.

More information is also provided regarding Kate's past and her mother's death but numerous questions remain unanswered, such as the precise origin and nature of her powers and the reasons for her animosity toward Roland (the leader of the People). It will be interesting to see how this plays out in future books.

Finally, the interactions between Kate and Curran are another highlight of the book. The slow build up of tension between them is captivating and their push-pull dynamic is very entertaining - it is great to see the Beast Lord put in his place every so often.
Also in the Kate Daniels Novel series