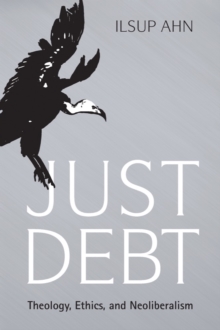 Just Debt : Theology, Ethics, and Neoliberalism
Hardback
Description
Debtapersonal, corporate, governmentalais so pervasive in contemporary economies, with its moralistic logic nearly unquestioned.
Debt's necessityrenders it morally neutral, absolving it of the dehumanizing effect it brings in unbridled financialization. In Just Debt Ilsup Ahn explores ethical implications of the practice of debt.
Byplacing debt in the context of anthropology, philosophy, economics, and the ethical traditionsprovided by the Abrahamic religions,Ahn holds that debtwasoriginally a form of gift, a gift that was intendedas a means to serve humanity.
Debt, as gift, had moral ends. Since the lateeighteenthcentury, however, debt has been reduced to an amoral economic tool, one separated from its social and political context.
Ahn recovers an ethics of debt and its moral economy by rediscovering debt's forgotten aspectathatall debts entail unique human stories.Ahn argues that it is only in and by these stories that the justice of debt can be determined.
In orderfor debtto be justly established, its story should be free from elements of exploitation, abuse, and manipulation and should conform to the principles of serviceability , payability , and shareability . Although thecontemporaryglobal economydisconnects debt from its context, Ahn argues that debt must be firmly grounded in the world of moral values, social solidarity, and political resolution.By re-embedding debt within its moral world, Just Debt offers a holistic ethics of debt for a neoliberal age.
Information
Format: Hardback
Pages: 216 pages
Publisher: Baylor University Press
Publication Date: 01/01/0001
Category: Religious ethics
ISBN: 9781481306911
Free Home Delivery
on all orders
Pick up orders
from local bookshops