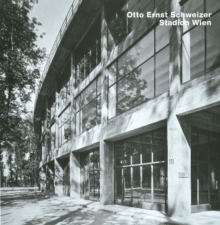 Otto Ernst Schweizer, Stadium in Vienna : Stadion Wien
Hardback
Description
Text in German & English. When the stadium for a "Workers Olympiad" -- one of the most beautiful complexes in Europe, as the daily press put it -- was opened in 1931 on the occasion of the 10th anniversary of the Republic of Austria on the Prater site in Vienna, Otto Ernst Schweizer, the architect, was suddenly catapulted into the ranks of internationally acclaimed architects.
The stadium, which can seat 60,000, was built as an amphitheatre on the model of its ancient predecessors, in particular the Colosseum in Rome, which Schweizer had studied intensively; the Viennese stadium seen as a reinterpretation of the enormous Roman structure on the basis of the constancy of things that were valid, which was one of the basic premises of his architecture.
Otto Ernst Schweizer, born in 1890, and thus of the same generation as Le Corbusier, Hans Scharoun, Erich Mendelsohn and Ludwig Mies van der Rohe, had attracted attention even as a young architect with some outstanding competition entries, and was acclaimed for his planetarium on the periphery of the old town in Nuremberg and for the stands and the two cafes of the stadium complex there. He had left municipal service as an Oberbaurat to dedicate himself to planning and realizing the Milchhof in Nuremberg and also the stadium in Vienna.
For thirty years he worked as one of the great teachers and researchers in the architecture faculty of the Technische Hochschule in Karlsruhe.
He built -- after a long break forced upon him by National Socialist culture policy -- the II.
Kollegiengebaude for Freiburg University. This was his last building, and once again Schweizers approach to form and function was concentrated in it, almost as the quintessence of a rich creative life. And what remains of the stadium, this most beautiful complex in Europe, as has been said?
The landscape around it has been wrecked and allowed to fray into randomness and Schweizer's reflecting lake in front of the arena has been filled in.
The arena itself has been enlarged by almost double its appropriate cubature and its height increased, so generally it has changed to such an extent that the original is unrecognisable; hence this book.
Information
Format: Hardback
Pages: 60 pages, 50 b/w photos & illus
Publisher: Edition Axel Menges
Publication Date: 10/01/2011
ISBN: 9783932565755
Free Home Delivery
on all orders
Pick up orders
from local bookshops