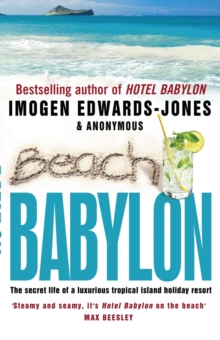 Description
How does it feel to live and work in the world's most beautiful and luxurious tropical island resort, surrounded by white sandy beaches and aquamarine seas?
How does it feel to be in the lap of luxury when you're thousands of miles from anywhere else? And when the guests are some of the richest and most demanding people in the world, where do you find the energy every day to smile, smile and smile again?
Beach Babylon takes you behind the scenes at a five-star tropical island resort.
Do all the stories which take place behind the closed doors of the exclusive spa have happy endings?
What do the world's richest people expect from room service during their fortnight in paradise?
What does the windsurfing instructor do to keep sane after hours?In the bestselling tradition of her previous Babylon books, Imogen Edwards-Jones investigates the rivalries and alliances between the staff at a resort where pandering to the guests' most extravagant whims is de rigueur.
With a cast of millionaires, celebrities, hangers-on and prostitutes, Beach Babylon takes you to a world where extreme luxury is the norm and where excess somehow isn't always enough...
Information
Format: Paperback
Pages: 384 pages
Publisher: Transworld Publishers Ltd
Publication Date: 12/04/2008
Category: True stories
ISBN: 9780552154635
Free Home Delivery
on all orders
Pick up orders
from local bookshops
Reviews
Showing 1 - 1 of 1 reviews.
Review by birdsam0610
16/06/2015
Beach Babylon is yet another of the Babylon series that contains Hospital, Hotel, Fashion, Wedding etc. Each book, with the help of several anonymous insiders, provides an insider's look into the world of hotels, hospitals etc. As I found Hospital Babylon amusing with some truth to it, I decided to try some more Babylon books. Not to mention that they also appear on discount piles and are exceptionally easy reads that can be read during busy working periods.Beach Babylon is somewhat similar to Hotel Babylon in that it's set in the hotel industry. However, this time the setting is an idyllic beach resort that seems to be situated on a private island somewhere in South East Asia. None of this five star rubbish, this resort is six stars for the serious high flyers and high spenders. Decadence reigns at this resort, from personal villa attendants, yachts at the disposal of guests, barbeques on sandbars dripping with food and alcohol. A crisis is when the Cristal shipment fails to arrive or there's a Sheikh Attack (unexpected arrival of a sheikh). But behind the glamour and the luxurious lifestyle, there's the staff toiling away to meet every whim and need. The story is told in the first person by the manager, who is running his own little kingdom – with worker riots, a promiscuous chef, no water and huts next to the power generator. There's no way of getting away from work – it's 24/7, and takes its toll on both him (drinking every night with guests can be difficult) and causes his relationship to suffer. This book shows the extremes of human behaviour – from extreme selfishness and stupidity to full-blown generosity. Light hearted and somewhat similar to Hotel Babylon, this was good escapist fare. It reminded me of resorts situated in isolated conditions and the fact that being unable to escape from paradise can be hell. A fast read, but a good one.