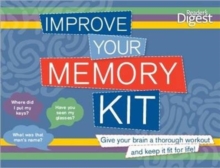 Improve Your Memory Kit
Counterpack - filled
Description
At times we all struggle to remember things: finding misplaced keys, putting names to faces, recalling phone numbers.
This ingenious kit offers a fun and easy way to boost your memory.
It brings together a 96-page booklet that explains how memory works and offers easy-to-follow advice for sharpening your memory, 100 challenge cards filled with practical exercises to boost recall, and a fun 'match the pictures' memory game that can be played alone or with friends.
It's a complete package that shows you how memories are created-and sometimes forgotten-and provides all the tools you need to get your memory into top condition.
Key Sales Points - Developed with the help of Jonathan Hancock, a former World Memory Champion, author, teacher and memory consultant. - Includes an electronic timer, notepad and pencil-everything you need to complete the exercises in the kit and get your memory in good working order. - 100 challenge cards are divided into Easy, Medium, Hard and Championship, and include practical tips for tackling each exercise. - The 'match the picture' game provides a fun way to keep exercising your brain.
Free Home Delivery
on all orders
Pick up orders
from local bookshops