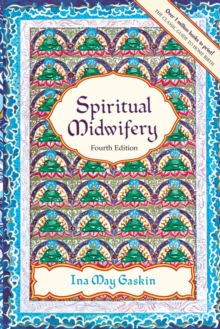 Spiritual Midwifery
Paperback
Information
Format: Paperback
Pages: 480 pages, portraits
Publisher: Book Publishing Company
Publication Date: 01/01/2002
Category: Pregnancy, birth & baby care
ISBN: 9781570671043
Free Home Delivery
on all orders
Pick up orders
from local bookshops
Reviews
Showing 1 - 5 of 6 reviews.
Previous | Next
Review by ammichaels
16/06/2015
This is one of the best books I read about childbirth. It was given to me by my sister, who had two healthy children, caught by midwives via natural childbirth.Ina May Gaskin is a midwife who lives in a farm co-op in Tennessee and, with her fellow midwives, they have birthed over 2,000 babies. 95% of the babies were born at home with no drugs. She has extremely rates of C-sections (less than 5%) and episiotomies. I was also impressed by this book because it talks about pregnancy and childbirth not as a medical condition, but as a natural process, and more importantly, as a spiritual journey.Yes, there's a lot of hippie language (I found it amusing) but what a wonderful book this is. I recommend it to all expectant mothers, especially those of you who want to really experience the joy that is childbirth. I was a little scared before, but now I am excited!
Review by blog_antagonist
16/06/2015
The Language is a little hokey...this book was originally written in the 70's. But if you can get past that, you will find a wonderfully empowering message. Ina Mae Gaskin is a pioneer in the field of modern Midwifery and the insight she shares in this book is invaluable, moving and inspiring.
Review by damsorrow
16/06/2015
This book is divided up into thirds: birth stories, information for the parent, information for the midwife. This makes this book is fucking cool no matter who you are--someone interested in a very interesting cultural moment, an expectant parent, or someone (like me) who wants to take babies out of ladies for a living.The other incredible thing about this book is that it really lays out to you, technical manual style, everything you would need to know to pinch-hit for a midwife, if not get started in midwifery yourself. Popular books these days don't really trust the public like that anymore (Ina May says "consult your friendly doctor" quite sparingly) and it's refreshing and exciting.
Review by Voracious_Reader
16/06/2015
My husband and I were of divided minds on this one. I was able to get past the sort of hippie-go-lucky language and tone of the book to the meat of it--namely, that childbirth is a wonderful natural process that can go much better for the mother when she is surrounded by supportive individuals who are acting on her behalf and the baby's in a personal way rather than in a institutional, impersonal, intervention focused hospital. Obviously if a woman feels cared for and relaxed and at ease, anything, including childbirth would be easier to get through. My husband could not, however, get over the hippie nature of the book. While the book did not convince me to have a home birth, it did reinforce my intuition that the female body is made for birthing and that the focus of childbirth should be to support the body in doing what it normally does on the bodies' time table and in a way that works for that particular mother, rather than trying to hasten events with multiple medical interventions that carry with them side effects that may prolong labor and endanger the mother or child. The book is a collection stories from various individuals at a commune with topics concerning miscarriage, childbirth, postpartum depression, c-section, breach births etc... It's worth reading if you are unfamiliar with childbirth and would like read something that is insightful but not medical in an institutional way. It is female/human ability focused without being totally against medical interventions when they are needed; it just has the point of view that they're used far more than needed.
Review by julierh
16/06/2015
this classic is a must-read for pregnant women- especially those who, like me and most pregnant women, hear lots of birth horror stories and find themselves in need of positive accounts. ina may gaskin in known throughout the world for her impressive midwifery skills and for her superb outcomes over the years in helping women give birth on her commmune in tennessee.