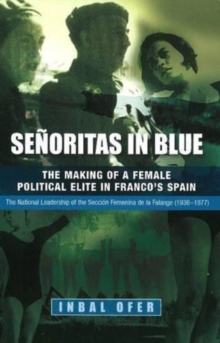 Senoritas in Blue : The Making of a Female Political Elite in Franco's Spain - The National Leadership of the Seccion Femenina de La Falange (1936-1977)
Hardback
Description
This book explores the role played by the Female Section of the Spanish Fascist Party (Seccion Femenina de la Falange -- SF) in promoting women's political and professional rights within the authoritarian Franco regime in Spain.
While acknowledging the organisational and financial ties, as well as the great ideological affinity between the SF and the regime, Inbal Ofer demonstrates how the SF's national leadership promoted an autonomous social and political agenda.
Despite the need to constantly manoeuvre between the cultural and legal dictates of Francoist society, the unique activities and personal experiences of SF members at the heart of political power became a model for an array of policies and reforms that greatly improved the lives of Spanish women. From a unique gender perspective the topic of the Seccion Femenina de la Falange contributes to the debate on the nature of authoritarian regimes by reflecting on issues of policy formation and implementation; mass mobilisation; and the role of coercion alongside the creation of a "culture of consent". In exchange for a long-term commitment to the survival of the regime, both the Catholic Church and the Spanish Falange gained considerable administrative power and a measure of freedom to act on political and social matters.
As explained, the promotion of women's legal and political equality (reflected in the struggle to amend the Civil Code and ratify the Law for Political and Professional Rights) is a good example of the way organs within the "regime" made use of their position in order to legitimise non-consensual forms of activism.
The SF efforts to increase the number of gainfully employed women and improve their working-conditions is an example of the unexpected uses made by agents of the "regime" of the freedom of action accorded them in the public arena. Inbal Ofer raises questions regarding the nature of women's political activism and capacity for autonomous action within authoritarian regimes, setting out the debate on the nature of feminism and its relation to female activism and the promotion of women as a collective. More specifically she engages with those works that critically evaluate women's public contribution within Catholic and / or nationalist settings, and is required reading for interested in the history of modern Europe.
Information
Format: Hardback
Pages: 160 pages, b/w photos
Publisher: Sussex Academic Press
Publication Date: 20/03/2009
Category: Gender studies: women
ISBN: 9781845193140
Other Formats
Paperback / softback from £15.55
Free Home Delivery
on all orders
Pick up orders
from local bookshops