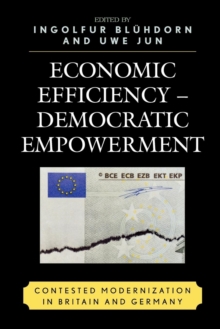 Economic Efficiency, Democratic Empowerment : Contested Modernization in Britain and Germany
Paperback / softback
Description
Germany and Britain are two major European economies that have been trying to confront the challenges of globalisation in very different ways.
Britain has favoured market liberal strategies; Germany has endeavoured to retain its tradition of consensualism and the strong welfare state.
Focusing on the period since 1997/8, this book explores the controversies and struggles surrounding the agendas of social, economic, and political modernisation in the two countries.
The New Labour governments in Britain and the Social Democratic coalition governments in Germany have been introducing a range of reform policies designed to reform the welfare state and increase the respective country's competitiveness in the global market.
In both countries, however, these policies have triggered societal resistance.
The governing parties had to confront electoral setbacks, an exodus of party members, strains on the relationship with traditional political allies, and an increasingly alienated public. Within this context, this book focuses on the tensions between two key parameters in contemporary modernisation discourses: economic efficiency and democratic renewal.
Political elites in many European countries are presenting the achievement of efficiency gains as a primary objective of globalisation-induced societal reform.
At the same time civic empowerment and the engagement of civil society are widely regarded as essential for increasing the quality, legitimacy, and effectiveness of public policy making.
But can these two goals be achieved at the same time?
What exactly does the highly contested term efficiency imply?
What is its relationship towards the equally ambiguous goal of democratic renewal?
Focusing on a variety of political actors, structures and strategies in Germany and Britain, the individual chapters in this book trace how the tensions between economic efficiency and democratic renewal surface, how definitional struggles surrounding these ideals are being managed, and how new syntheses between the two parameters are being forged.
Information
Format: Paperback / softback
Pages: 346 pages
Publisher: Lexington Books
Publication Date: 09/02/2007
Category: Political structures: democracy
ISBN: 9780739112113
Free Home Delivery
on all orders
Pick up orders
from local bookshops