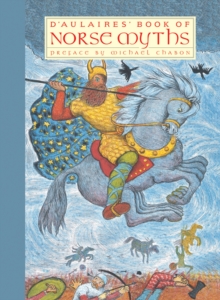 D'aulaires' Book Of Norse Myths
Paperback
Information
Format: Paperback
Pages: 160 pages
Publisher: The New York Review of Books, Inc
Publication Date: 31/05/2005
ISBN: 9781590171257
Free Home Delivery
on all orders
Pick up orders
from local bookshops
Reviews
Showing 1 - 5 of 8 reviews.
Previous | Next
Review by timspalding
16/06/2015
I adored the book as a child and revere it now. Although I ended up in Classics for graduate school, D'Aulaires Greek myths never caught me the way his Norse myths did.
Review by countdowntoblastoff
16/06/2015
A perfect book.This is the kind of book children stumble upon in libraries and then obsessively devour for weeks. The myths are exciting and easily understandable, and the D'Aulaire's rough and colorful illustrations carve themselves indelibly into the memory. If you and/or your children have never seen this book, do yourselves a favor and get acquainted.
Review by lauraejensen
16/06/2015
A stunning introduction to Norse Mythology. Classic and indispensable. Tellings of Odin, Thor, Bragi the god of poetry. The wondrous fantastical world of maidens, elves, gnomes, heroes, gods, goddesses and giants. A captivating, fantastic book with amazing illustrations. Will inspire children from the first sentence.
Review by bkwurm
16/06/2015
I am a huge fan of the d'Aulaire mythology collections. My kids and I love their collection of Greek myths, and have read through them more than once. The Norse myths are by nature a little harsher and a little colder, but I think they inspired more questions and discussion between my daughters and myself than the Greek myths did--always a good thing! The d'Aulaire retelling of the Norse myths is clear, kid-friendly and just the right length to keep their attention, but it does all of this without losing the underlying feeling and meaning behind these often harsh and bloody histories. The illustrations are wonderful, and complement the stories perfectly. They myths can be read individually, or in order like a novel, to tell the story of the Norse pantheon from its inception to its demise at Ragnarokk. There is so much reference to Norse myth in our culture and our literature, it really gives kids (and let's be honest, adults as well) a head start to have some familiarity with the stories and the history. This book has sparked plenty of interesting discussion, and I know we'll end up reading and enjoying it again and again over the years.
Review by cassielanzas
16/06/2015
D'Aulaires' book of Norse Myths is a picture book containing an adaptation of Norse myth. It begins with the creation of the world an chronicles the conflicts the Norse Gods and humans have with one another. I enjoyed this book, especially the pictures. They were create with limestone tablets prints using only four colors. The effect is unique and striking. I think this would be an excellent book for reading during a unit on mythology or independent reading. The D'Aulaires do an incredible job making the myths accessible.