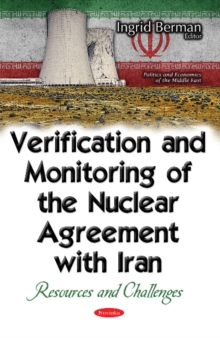 Verification & Monitoring of the Nuclear Agreement with Iran : Resources & Challenges
Paperback / softback
Description
In July 2015, multilateral talks with Iran culminated in an agreement called the Joint Comprehensive Plan of Action (JCPOA), through which Iran committed to limits on its nuclear program in exchange for relief from sanctions put in place by the United States and other nations.
The International Atomic Energy Agency (IAEA), an independent international organization that administers safeguards designed to detect and deter the diversion of nuclear material for nonpeaceful purposes, was requested to verify and monitor Irans implementation of these commitments.
The U.S. Department of State coordinates the United States financial and policy relationship with IAEA.
This book, which updates the preliminary findings from an interim report released in February 2016 (GAO-16-417), examines the JCPOA commitments that IAEA has been asked to verify and monitor and its authorities to do so; the resources IAEA has identified as necessary to verify and monitor those JCPOA commitments; and potential challenges and mitigating actions IAEA and others have identified with regard to verifying and monitoring the JCPOA.
Information
Format: Paperback / softback
Pages: 65 pages
Publisher: Nova Science Publishers Inc
Publication Date: 01/12/2016
Category: Diplomacy
ISBN: 9781536101645