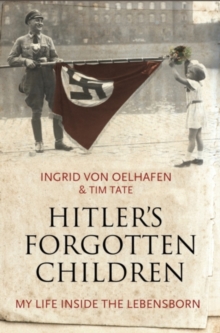 Hitler's Forgotten Children : My Life Inside the Lebensborn
Hardback
Description
'More than 70 years ago I was a "gift" for Adolf Hitler.
I was stolen as a baby to be part of one of the most terrible of all Nazi experiments: Lebensborn.' The Lebensborn programme was the brainchild of Himmler: an extraordinary plan to create an Aryan master race, leaving behind thousands of displaced victims in the wake of the Nazi regime.
In 1942 Erika, a baby girl from Sauerbrunn in Yugoslavia, was taken for a 'medical' examination by the Nazi occupiers.
Declared an 'Aryan', she was removed from her mother and held in a children's home; her true identity erased, she became Ingrid von Oelhafen.
Later, as Ingrid began to uncover her true identity, the full scale of the Lebensborn scheme and the Nazi obsession with bloodlines became clear - including the kidnapping of up to half a million babies like her, and the deliberate murder of children born into the programme who were deemed 'substandard'.
Written with insight and compassion, this is a powerful meditation on the personal legacy of Hitler's vision, of Germany's brutal past and of a divided Europe that for many years struggled to come to terms with its own history.If you would like to listen to the authors talk on their book, they are making the following radio appearances: BBC Radio 4 Midweek (broadcast on the 20 May) BBC Radio Wales - Roy Noble Show (broascast on the 24 May) BBC Radio Scotland - Culture Cafe (broadcast on the 19 May) BBC Radio Berkshire - Paul Ross Show (broadcast on the 20 May) Radio Gorgeous (yet to be scheduled)
Information
Format: Hardback
Pages: 256 pages, illustrations
Publisher: Elliott & Thompson Limited
Publication Date: 14/05/2015
Category: Memoirs
ISBN: 9781783961207
Free Home Delivery
on all orders
Pick up orders
from local bookshops
Reviews
Showing 1 - 1 of 1 reviews.
Review by atticusfinch1048
27/08/2015
Hitler's Forgotten Children Anyone who has seen Les Mis knows the Jean Valjean song 'Who Am I?' and it is a question we all ask ourselves at some point in our own lives, but when you come from a Central Eastern European country it sometimes can take you down paths you did not know exist. Coming from a Polish family that suffered at the hands of Nazi and Soviet alike and brought up with the horrors of what both did to the people from the Polish Baltic down to Yugoslavia in the south, the Jew and Slav were victims, some more than others.Like most Eastern European families, those who have had to live in a country other than that of their forefathers since 1945 for various reasons, where were brought up on the rumours and knowledge of the Russians committed crimes at Katyn (which they still try and deny) and that the Nazis stole babies away from their mothers across Eastern Europe but never really understood why.Hitler's Forgotten Children is Ingrid von Oelhafen version of that age old question of who am I? Even more so when she discovered that she was an unwitting part of the Lebensborn programme created by Himmler and that the Nazis had done everything they could to destroy her true identity. This is her journey in to finding who she really was as well as an examination of Lebensborn a much forgotten Nazi pogrom to create more 'Aryan' children that had been born to people who were 'substandard'.To those who think they know much about what happened during the Second World War tend not to know much about Lebensborn, and this is part memoir, part history lesson. This is an important book that will guide you through what was and still is a hideous pogrom whose children are still coming to terms with it today.Lebensborn is the name of the pogrom that Himmler created for children that were born to Slavic women but were 'blonde haired and blue eyed' clearly a freak of nature and had to be taken from them and placed with good 'Aryan' families in Germany. Lebensborn shows the obsession that the Nazis had with blood lines and racial purity and this book covers all aspects of this terrible history.What we learn from this book is the Ingrid felt dislocated from her German family and how she was dumped in a children's home after the escape from the Soviet zones in Germany after the war. Her and her 'brother' dumped there by her good German 'mother'. It is only after the end of the cold war and the end of the divided Germany did the facts start to be revealed and that Ingrid found that she was a Lebensborn child. From there started a painful but important journey and how shocking it is when you see the bureaucracy and the state secrecy that stopped her discovering the truth about herself.Hitler's Forgotten Children is part memoir part history lesson that many who think they know about the Nazis will be shocked at. One has to remember that these babies were stolen during the war and are in the 70s now and some are coming to terms and some just cannot come to terms with their status. They are still unwitting victims today and reading Ingrid von Oelhafen's account you will find a well written well researched and knowledgeable account, written with compassion.This is a one of a number of dark periods of European history and this is still going on today as Europe has still come to terms with the effects of war and being divided. Think how hard it must be to know that most of your life has been a lie and the one you should have had was stolen from you in the aid of 'racial purity'.
Also by Ingrid von Oelhafen