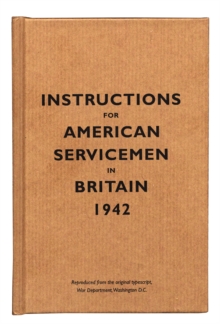 Instructions for American Servicemen in Britain, 1942
Hardback
Description
In 1942 the United States War Department distributed a handbook to American Servicemen advising them on the peculiarities of the `British, their country, and their ways'.
The guide was intended to lessen the culture shock for those embarking on their first trip to Great Britain, and for the most part, abroad.
The instructions are a wonderful interpretation of the differences between the two allies.
By turns hilarious and poignant, many observations remain quaintly relevant today.Every page is full of enchantingly nostalgic advice and observations.
Reproduced in a style reminiscent of the era, this is a wonderfully evocative war-time memento. The reader, from whatever country, will revel in the amusing and terrifically truthful American perception of the British character and country.
Information
Format: Hardback
Pages: 48 pages
Publisher: The Bodleian Library
Publication Date: 01/09/2004
Category: European history
ISBN: 9781851240852
Free Home Delivery
on all orders
Pick up orders
from local bookshops
Reviews
Showing 1 - 3 of 3 reviews.
Review by danielibrary
16/06/2015
Interesting glimpse into history where the American troops are sensitised as to Bristish customs of the time and encouraged to appreciate the alliance between the two countries during WWII.
Review by shirfire218
16/06/2015
United States War DepartmentBodleian Library, University of Oxford; 2004; 31 pp.This is a charming book I received from a dear friend from Devonshire, England. It is a reproduction of an original pamphlet produced by the War Department in 1942. It was meant to give a brief introduction to Britain and its people and some words of advice to the servicemen shipping over to England to join the Allies in destroying Hitler. The writing comes across quaint and nostalgic from the modern perspective.I actually did learn a little about the geography and demographics of England. The discourse on the characteristics of Britons as seen from the American viewpoint was relatively true to form, I believe, and sometimes humorous as well.
Review by gbill
16/06/2015
Just what the title says, this is a booklet that was distributed to American GI's before they went to England in 1942 to brace them for what to expect once over there, and to provide guidelines for how to behave. It turns out it's good advice for anyone visiting a foreign country, essentially a reminder to be polite and respectful of the host's culture that the stereotypical "ugly American" tourist of today would do well to heed. The book is a reflection of both British culture and America's, as the image formed comes from both the object under study and the lens through which it's viewed. The language from the time is also sometimes cute.Quotes:"Don't be misled by the British tendency to be soft-spoken and polite. If they need to be, they can be plenty tough. The English language didn't spread across the ocean and over the mountains and jungles and swamps of the world because these people were panty-waists.""You can understand that two actions on your part will slow up the friendship – swiping his girl, and not appreciating what his army has been up against.""In the pubs you will hear a lot of Britons openly criticizing their government and the conduct of the war. That isn't an occasion for you to put in your two-cents worth. It's their business, not yours.""The British don't know how to make a good cup of coffee. You don't know how to make a good cup of tea. It's an even swap.""It is always impolite to criticize your hosts. It is militarily stupid to insult your allies. So stop and think before you sound off about lukewarm beer, or cold boiled potatoes, or the way English cigarettes taste."
Also in the Instructions for Servicemen series