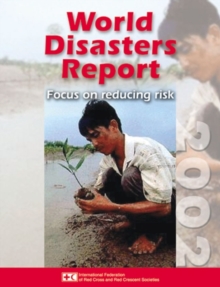 World Disasters Report : Focus on Reducing Risk
Paperback / softback
Description
Disasters, both environmental and technological, continue to inflict unacceptable human and economic costs.
The number of weather-related disasters has doubled between 1996 and 2002, and scientists are warning that global warming will bring more windstorms, more floods and more droughts.
The challenge to reduce the heavy toll taken by disasters has never been more urgent.
This report focuses on reducing disaster risk. How significant a role can mitigation and preparedness play in reducing disaster losses?
How can international disaster response better integrate with local responses?
What non-structural approaches to mitigation from early warning systems and first-aid training to public awareness, education and advocacy are possible? And can we show that disaster preparedness and mitigation pay off in terms of lives, livelihoods and assets saved?
The report examines the rationale for disaster preparedness, how to mitigate the effects of global warming in small island states and how to reduce risk from earthquakes in urban areas.
It also looks at how communities in Mozambique, Nepal and Latin America have successfully reduced the toll of disasters through sound preparedness. In addition to the data chapter, updated annually, the report studies humanitarian accountability and presents a methodology to assess vulnerabilities and capacities.
Information
Format: Paperback / softback
Pages: 240 pages, illustrations
Publisher: International Federation of Red Cross & Red Cresce
Publication Date: 30/06/2002
Category: Social impact of disasters
ISBN: 9789291390823