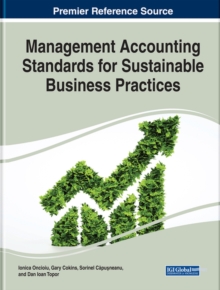 Management Accounting Standards for Sustainable Business Practices
Hardback
Description
Modern companies are under increasing pressure to conduct their business in an environmentally responsible manner due to social and environmental problems.
They must find the means to deploy their businesses in a socially- and environmentally-sustainable way without sacrificing their economic performance (e.g., profits to shareholders and owners) and wellbeing.
By integrating multiple processes and methods, management accounting plays a key role in achieving a company's sustainability, notably by providing reliable, relevant, accurate, and timely information to managers. Management Accounting Standards for Sustainable Business Practices is a pivotal reference source that explores how management accounting plays a key role in establishing future business strategies and adapting to business, corporate image, and reputation, and identifies responses to the requirements of the business environment and all stakeholders in developing multilateral communication and interactive relationships.
It contrasts external financial accounting for government regulators and the investment community with internal management accounting for managers to leverage for decision making.
Featuring research on topics such as ethical practices, creative accounting, and strategic planning, this book is ideally designed for CFOs, financial controllers, business analysts, FP&A analysts, managers, leaders, researchers, and students.
Free Home Delivery
on all orders
Pick up orders
from local bookshops