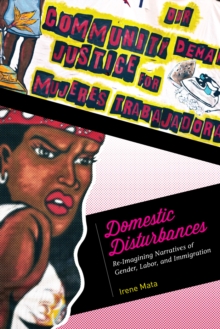 Domestic Disturbances : Re-Imagining Narratives of Gender, Labor, and Immigration
Paperback / softback
Description
The issue of immigration is one of the most hotly debated topics in the national arena, with everyone from right-wing pundits like Sarah Palin to alternative rockers like Zack de la Rocha offering their opinion.
The traditional immigrant narrative that gained popularity in the nineteenth and twentieth centuries continues to be used today in describing the process of the "Americanization" of immigrants.
Yet rather than acting as an accurate representation of immigrant experiences, this common narrative of the "American Dream" attempts to ideologically contain those experiences within a story line that promotes the idea of achieving success through hard work and perseverance. In Domestic Disturbances, Irene Mata dispels the myth of the "shining city on the hill" and reveals the central truth of hidden exploitation that underlies the great majority of Chicana/Latina immigrant stories.
Influenced by the works of Latina cultural producers and the growing interdisciplinary field of scholarship on gender, immigration, and labor, Domestic Disturbances suggests a new framework for looking at these immigrant and migrant stories, not as a continuation of a literary tradition, but instead as a specific Latina genealogy of immigrant narratives that more closely engage with the contemporary conditions of immigration.
Through examination of multiple genres including film, theatre, and art, as well as current civil rights movements such as the mobilization around the DREAM Act, Mata illustrates the prevalence of the immigrant narrative in popular culture and the oppositional possibilities of alternative stories.
Information
Format: Paperback / softback
Pages: 218 pages, 5 b&w photos
Publisher: University of Texas Press
Publication Date: 01/11/2015
Category: Popular culture
ISBN: 9781477309841
Free Home Delivery
on all orders
Pick up orders
from local bookshops