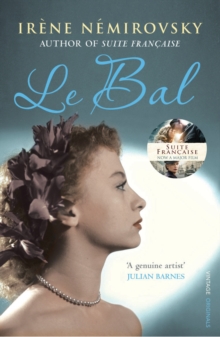 Description
From the author of the bestselling Suite Francaise. Le Bal is a sharp, brittle story of a girl who sets out to ruin the mother she hates.
The Kampfs have risen swiftly up the ranks of 1930s Parisian society.
Painfully aware of her working-class roots, and desperate to win acceptance, Madame Kampf decides to throw a huge ball to announce her arrival to society.
Her daughter Antoinette, who has just turned fourteen, dreams of attending, but Madame Kampf is resolved not to present her daughter to potential admirers.
In a fury of adolescent rage and despair, Antoinette exacts a swift and horrible revenge... Snow in Autumn pays homage to Nemirovsky's beloved Chekhov and chronicles the life of a devoted servant following her masters as they flee Revolutionary Moscow and emigrate to a life of hardship in Paris.
As the crisis pushes the family to the brink of dissolution, Tatiana struggles to adapt to life in Paris and waits in vain for her cherished first snow of autumn.
Information
Format: Paperback
Pages: 112 pages
Publisher: Vintage Publishing
Publication Date: 04/10/2007
Category: Classic fiction (pre c 1945)
ISBN: 9780099493976
Free Home Delivery
on all orders
Pick up orders
from local bookshops
Reviews
Showing 1 - 5 of 5 reviews.
Review by pamelad
16/06/2015
Two novellas, Le Bal and Snow in Autumn.. Le Bal is set in the same nouveau riche milieu as David Golder, with characters equally unappealing. Arriviste couple, the Kampfs, plan to give a ball. Their fourteen-year old daughter takes takes revenge for not being allowed to atttend.Snow in Autumn describes the last days in Russia and the first months in Paris of an aristocratic family whose patriarch and young men have been conscripted to fight inthe war against the Bolshevics. Their old nurse follows the family to Odessa then escapes with them to France, where she waits for the snows of autumn.
Review by Swirl3d
16/06/2015
I enjoyed both of the stories in this edition but particularly the first, Le Bal. A tale of a couple trying to climb the Parisian social scale, grudgingly bringing their daughter in tow. Nemirovsky's portrayl of the brilliantly odious and quite frankly rather evil mother is sublime.I particulary like the character development of the girl, who experiences a watershed maturation over the short course of the story. The girl learns from her mother as she ascends toward womanhood and the impact of her parental treatment starts to show.I read this over a train journey, and deliberately stayed on after my stop in order to finish it!The second story, Snow in Autumn, I found much more subtle, sad and restrained. It tells of a family who flee Russia for Paris with their faithful servant, and while they shift and adapt, she is lost in the new world. Both stories explore the position of those pulled along by other people's change, and their experience of being out of place in Paris, but they are quite different. There is also a lovely symmettry in the respective rise and fall of the young and old protagonists. A gem.
Review by Clara53
16/06/2015
The plots of the two novellas were quite good, but the writing itself lacked maturity, in my view. Not a criticism: the writer was only 27 when she wrote them. She went on to write a well known novel "Suite Francaise" later (which I am planning to read and thus, hopefully, upgrade my opinion of the author). Translation from French seemed also less than adequate - I had a strong feeling about it even without seeing the original.
Review by Gracie94
16/06/2015
Superb. A beautiful portrait of human nature narrated with an unrivaled melancholy grace. Loved it.
Review by newskepticx
16/06/2015
Nemirovsky is my current literary love affair. She writes the most brilliant colourful bits of life. Le Bal is wickedly clever; Snow in Autumn is poignant. I'm gushing because I wouldn't review her in any other way.