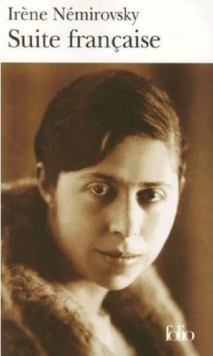 Suite francaise
General merchandise
Information
Format: General merchandise
Publisher: Livre de Poche
Publication Date: 01/04/2005
ISBN: 9782070336760
Other Formats
Paperback from £7.65
CD-Audio from £13.75
Free Home Delivery
on all orders
Pick up orders
from local bookshops
Reviews
Showing 1 - 3 of 3 reviews.
Review by Intemerata
16/06/2015
A remarkable book on its own merits, made all the more so by the fact that it was written in the midst of the events it describes, and that it is, essentially, an incomplete draft. I can only imagine what the finished version would have been like.I did find it a bit difficult to keep track of exactly who was who, and the French was hard to follow in places, but those are my failings, not the novels.
Review by AramisSciant
16/06/2015
Very insightful novel about the occupation of France during WWII. It is hard to believe that some of the smartest points in the novel were written so close after the historical facts. Usually such an intelligent analysis requires a longer historical perspective. Would be interested to read the English translation.
Review by chlorine
16/06/2015
June 1940. The german troops are walking towards Paris, and the population, terrified, flees in mass.The book consists of two parts: first the debacle of 1940 with the population and the French troups fleeing, then the occupation.The first part follows several groups in their exodus, and w witness many small details: the baseness of some people, the beautiful actions of others, that they sometimes regret afterwards, many people's naivety about the situation, the panic of all. We see people who think their wealth will allow them to flee serenely, people who have lost their kin and are looking for them, people fleeing by foot... With a lot of talent, the author presents us, brush stroke by brush stroke, the image of a whole country fleeing in panic.The second part, very different in style, focuses on a small village, from the moment at which the German troops come for occupying it, till their departure, shortly after USSR declares war against Germany. We observe a wide variety of characters: patriots who little by little turn into collaborators, small resistants who poach to get along and eat more decently, women who have no news of their husband, who may be prisonners, and who try to raise their kids on their own as well as they can, other women who, little by little, come to care about German officers who treat them better than any man in the village has ever treated them...All these characters are described with a lot of humanity and their relationships give a very good description of the atmosphere in the village. In the end this is a large scope book, which one can read to feel the atmosphere of those years.Personnally I was more captivated by the first part, because I had head little about the flight of the civil population before the advance of the German troops. The second part, which is very well written and very interesting also, reminded me more of many books or movies I read or saw on this topic.