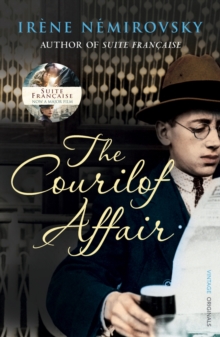 The Courilof Affair
Paperback
Description
From the author of the bestselling Suite Francaise. In 1903 Leon M - the son of two Russian revolutionaries - is given the responsibility of 'liquidating' Valerian Alexandrovitch Courilof, the notoriously brutal and cold-blooded Russian Minister of Education, by the Revolutionary Committee.
The assassination, he is told, must take place in public and be carried out in the most grandiose manner possible in order to strike the imagination of the people.
Posing as his newly appointed personal physician, Leon M takes up residence with Courilof in his summer house in the Iles and awaits instructions.
But over the course of his stay he is made privy to the inner world of the man he must kill - his failing health, his troubled domestic situation and, most importantly, the tyrannical grip that the Czar himself holds over all his Ministers, forcing them to obey him or suffer the most deadly punishments.
Set during a period of radical upheaval in European history, The Courliof Affair is an unsparing observation of human motives and the abuses of power, an elegy to a lost world and an unflinchingly topical cautionary tale.
Information
Format: Paperback
Pages: 176 pages
Publisher: Vintage Publishing
Publication Date: 01/10/2008
ISBN: 9780099493983
Free Home Delivery
on all orders
Pick up orders
from local bookshops
Reviews
Showing 1 - 2 of 2 reviews.
Review by DieFledermaus
16/06/2015
This short novella follows Leon M., a born and bred revolutionary, who is ordered to assassinate Valerian Courilof, the brutal Minister of Education, in Imperial Russia in 1903. Leon M. is the narrator and, at the start, he relates the story of his life – performed a number of assignments for the party, came to power after the Revolution, then grew disenchanted as a member of the secret police, was forced out and spent the rest of his life in Nice. The majority of the book is a portrait of Courilof. The narrator is able to travel to Russia with false papers and gets a job as a doctor in Courilof's household. In some ways the story is a bit predictable – the narrator becomes reluctant to murder Courilof after getting to know him – but it is well-done and Nemirovsky adds several layers to the narrator's view of Courilof.Courilof never becomes a sympathetic character, just one who is messily human and at times understandable. He's dying from a horribly painful cancer and spends his time mired in petty politics. His relationship with his daughter is cool and though he obviously cares about his wife, she is a source of trouble for him as a former actress and "loose woman". Courilof and the other ministers and aristocrats have contemptuous feelings for the emperor but their livelihood and social standing depends on him, so they are forced to suck up to him as well as other influential men. Nemirovsky provides distance through her narrative structure – the story initially is told in the 3rd person, then moves to Courilof's diary – and the narrator's character. He's rather reluctant in the first place – the child of revolutionaries and raised by the party, this is not a life he chose and his indecision, which predates Courilof, is apparent. Leon M. narrates from the future so he already knows what will happen. This allows him to comment on Courilof's actions, having been in charge, and gives the story a tone of world-weariness. For example, after the killing of several students, Courilof excuses it by saying he didn't mean for it to happen. He is easily able to forget the pain that he ordered. Instead of anger or judgment, the narrator says that it's just human nature and he did the same when he was in power. The other stories of Nemirovsky's that I've read – The Ball, Fire in the Blood, and Snow in Autumn – all had this tension between past, present and future and it is this underlying mood of murkiness and sadness that made the story memorable.
Review by newskepticx
16/06/2015
An example of good writing with depth and character development in a story where plot isn't that strong. I like it fine, but in so many ways this was a boring book with interesting elements.