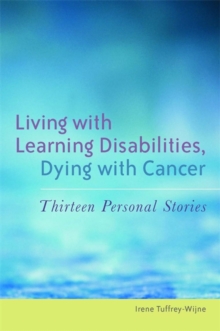 Living with Learning Disabilities, Dying with Cancer : Thirteen Personal Stories
Paperback / softback
Description
This book is a powerful and moving account of the experiences of 13 people with learning disabilities who were living with cancer.
The author followed their lives as part of a 3-year research study, during which 10 people died. She spent extensive periods of time with them at their homes and day centres, in hospitals, hospices and nursing homes.
In doing so, she gained a unique understanding of what it is like for individuals with learning disabilities to live with deteriorating health and how this may impact upon their families, friends and carers.
How was each person's cancer diagnosed? How was their cancer and its implications explained to them?
How much did they understand and how did they cope with treatment?
What happened when they were dying? In answering these questions, the book exposes the suffering of people with learning disabilities at the end of their lives, but also their remarkable resilience and strength.
In an optimistic final chapter, the author demonstrates how people with learning disabilities can best be supported at the end of life. This book will be an invaluable resource for anyone involved in the care and support of people with learning disabilities who have cancer and who are dying, including health and social care professionals, families and friends.
Information
Format: Paperback / softback
Pages: 272 pages
Publisher: Jessica Kingsley Publishers
Publication Date: 15/10/2009
Category: Counselling & advice services
ISBN: 9781849050272