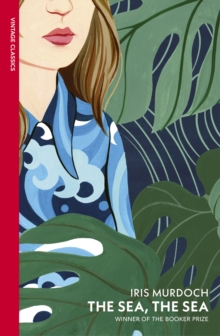 The Sea, The Sea
Paperback
Description
WITH AN INTRODUCTION BY JOHN BURNSIDEWhen Charles Arrowby retires from his glittering career in the London theatre, he buys a remote house on the rocks by the sea.
He hopes to escape from his tumultuous love affairs but unexpectedly bumps into his childhood sweetheart and sets his heart on destroying her marriage.
His equilibrium is further disturbed when his friends all decide to come and keep him company and Charles finds his seaside idyll severely threatened by his obsessions.
Information
Format: Paperback
Pages: 560 pages
Publisher: Vintage Publishing
Publication Date: 01/07/1999
ISBN: 9780099284093
Other Formats
Hardback from £11.25
EPUB from £4.99
Free Home Delivery
on all orders
Pick up orders
from local bookshops
Reviews
Showing 1 - 5 of 9 reviews.
Previous | Next
Review by LyzzyBee
16/06/2015
Bought late 1980s (?)A re-read of a favourite Murdoch and it didn't let me down, though it was interesting to read it in the context of our project to read all IM's novels in order as I did pick out a lot of the themes in more detail. I remembered this one well although I did conflate two parts together. An atmospheric read with beautiful descriptions of the sea and coastline and a plot in which much of the action interestingly took place offstage. James, the mystical cousin, is one of my favourite characters in all of Murdoch, although interestingly when I imagine him and Charles, I swap their physical appearances in my head.If you want to read about the effect first, lost love has on a lifetime, or just a cracking good read (not to mention Booker winner) then I recommend this one wholeheartedly.
Review by monarchi
16/06/2015
I read most of <i>The Sea, the Sea</i> on windswept beaches and secluded campsites. The book just exudes a sort of solitary other-worldliness, so the setting was just right. And what a book. First off, let me say that it is magnificently written, an impeccably crafted piece of literature (It won the Man Booker Prize.) And I loved it like one loves good art. But oh, the pain of reading it! Charles Arrowby, the protagonist, is a misogynistic, deluded, miserable and pompous old man, and since the novel is written in the first person, there's really no getting away from him. But Murdoch writes guilelessly, making his personality utterly believable. As I was reading, I was caught up in pity, revulsion, compassion, and even glimmers of understanding as the real world fell away and I started to see the world through Charles Arrowby's eyes.The Sea, the Sea is the story of a quiet retirement gone horribly wrong. It's the story of an aging actor/director who, Prospero-like, gives up his magic and artifice in search of tranquility and the simple life. But, while Shakespeare's play ends with Prospero giving up his magery, Arrowby's narrative starts there, and he soon finds out just how difficult this is. Even in retirement, Arrowby acts like a puppeteer, pulling strings to manipulate the people in his life. He lives in world of his own imagining that brooks no reality other than his own, a world that's threatened with collapse when his machinations spiral out of control. In the end, it's a story about love and attachment, and power of illusion. A fascinating book on its own, and even better, I think, if you know something about Buddhism or Eastern philosophy.
Review by dylanwolf
16/06/2015
Another of Iris Murdoch's less than sympathetic aesthetes, Charles Arrowby, washes up at a seaside cottage where he spent his boyhood and becomes captivated by a half-forgotten love of his early life, Mary Lynch, now aged and married to an abusive husband. Vanity and jealousy are the over-riding forces in his life and even his doting friends, who arrive and leave in a dizzying procession are unable to deflect him from his ruinous course of action. Superb writing as usual, but the characters are the usual upper class, arty types with time on their hands and no apparent money worries.
Review by thorold
16/06/2015
Lama lama lama!Rudyard Kipling and Iris Murdoch are probably the only English writers who could get away with putting a Buddhist sage at the centre of an ironic modern novel without it becoming sickeningly twee. <i>The sea, the sea</i> keeps you guessing for a long time about where it's going: Murdoch obviously decided it was worth the risk that readers might give up on the unlovable Charles halfway through the book. It's a risky strategy making your narrator a man who habitually mistreats women, and an innocent first love the main motor for the bad things that happen in the plot, but Murdoch has to take the reader down into the depths of humiliation with Charles for the ending to make sense. You can see from the reviews here that most people either love this book or fail to see what all the fuss is about. I think I could have come down either way, but the book caught me in the right frame of mind (and at a moment when I could get through it in a couple of days: I don't think it's a good book to leave lying around for weeks and weeks).
Review by LynnB
16/06/2015
I really don't know what to make of this book. Retired actor Charles Arrowby buys a small house on the sea in Southern England, where he plans to write his memoirs. However, his plans are shattered by the discovery that his first love...his one, true love...Hartley is living in the same town. He is certain that she still loves him (despite a total lack of evidence) and plans to rescue her from her bad marriage (as he perceives it). Meanwhile, a number of other friends, relatives and ex-lovers arrive to visit Charles, all trying to talk him out of his delusions.Oh, and there's a sea monster. Maybe.Somehow the story and characters didn't ring true for me. I wonder if this novel was supposed to be satirical? At the same time, Charles cannot be relied on as a narrator of his own story, so maybe I've missed something that so many others seem to have found in this novel.It took me a long time to get into it, but the story picked up with time. I especially liked Charles' reflections on what he'd written at the end of the book.