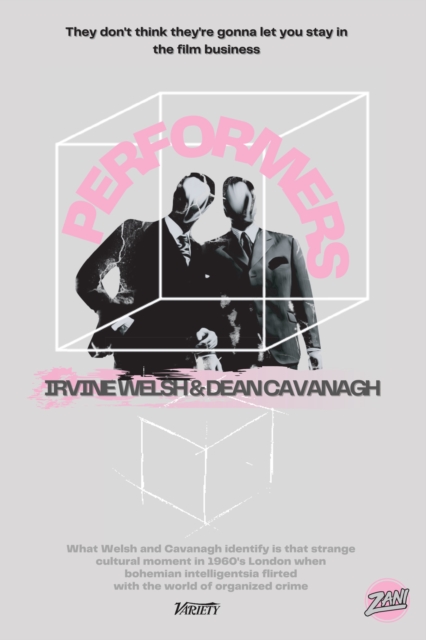 Performers
Paperback / softback
Description
They Don't Think They're Gonna Let You Stay in the Film Business

Performers deals with masculinity at the point when the sexual revolution was saturating culture. For many working-class men, it was confusing and threatening. As secularism started to replace traditional Judaeo-Christian attitudes, a lot of men found themselves torn between embracing the liberation and clinging to the simpler, more morally binary past.

In the swinging and hallucinogenic London of 1968, visionary Scottish filmmaker Donald Cammell joined forces with cinematographer Nicolas Roeg to make "Performance". The film would star James Fox, Mick Jagger and Anita Pallenberg, but the casting process was frustrating for Cammell because he insisted on bringing "real villains" into the roles that supported the lead character of South London gangster Chas Devlin.

David Litvinoff, a chameleon like character who bridged the worlds of rock and roll and organized crime, was employed as dialogue coach because of his connections and he set about introducing "real villains" to Donald Cammell. What started out as an acting vehicle for Mick Jagger soon took detours as Cammell began experimenting with the script. He developed the theme of dualism and became inspired by the writings of Borges and the paintings of Francis Bacon. Violence, psychedelic drugs, sex and a homo-erotic subtext became enmeshed in a story about the fracturing of the male psyche. David Litvinoff persuaded many London criminals to audition for roles in the film.

Performers is the story of two of them. On release, "Performance" was disowned by Warner Brothers, refused distribution, banned in certain countries and attacked by the mainstream media over its gratuitous sex, violence and illicit drug consumption. "Performance" did however go on to become a critical success and remains a cult classic. The filming took its toll on those involved though, most notably James Fox, who suffered a nervous breakdown and retired from acting for a period of time. Many believe that this was a result of Fox's method acting and his submergence in the London criminal underworld in preparation for the role, which Cammell enthusiastically encouraged. Today the film is cited as a huge influence on director Martin Scorsese and many other filmmakers and has gained a place in pop culture as the "coolest" and most accurate portrayal of swinging London ever documented.

"Performers" is a dark, subtle comedy with a cast of 4. A play of one scene, that narrates the story of two unwitting gangsters who find themselves auditioning for a part in the film. Homoerotic in parts, somewhat misogynistic, packed full of cultural reference points from the swinging sixties, the play presents an altogether inspiring twist on a classic casting couch situation.


Information
Format:Paperback / softback
Pages:120 pages
Publisher:ZANI
Publication Date:04/04/2021
Category:
ISBN:9781838462413
Information
Format:Paperback / softback
Pages:120 pages
Publisher:ZANI
Publication Date:04/04/2021
Category:
ISBN:9781838462413