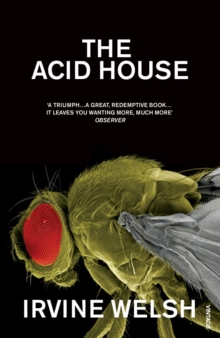 Description
The characters in this extraordinary book are often - on the surface - depraved, vicious, cowardly and manipulative, but their essential humanity is never undermined.
Two professors of philosophy turn pugilists; Leith removal men become the objects of desire for Hollywood goddesses; God turns Boab Coyle into a house-fly; and in the novella, 'A Smart Cunt', the drug-addled young hero spins off on a collision course with his past.
The Acid House is a bizarre, disturbing and hilarious collection from one of the most uncompromising and original writers around.
Information
Format: Paperback
Pages: 304 pages
Publisher: Vintage Publishing
Publication Date: 20/04/1995
ISBN: 9780099435013
Free Home Delivery
on all orders
Pick up orders
from local bookshops
Reviews
Showing 1 - 2 of 2 reviews.
Review by austcrimefiction
16/06/2015
I admit I had very little idea what to expect when I picked up THE ACID HOUSE, but TRAINSPOTTING worked for me so I thought why not.Welsh does bizarre, in your face scenarios; flawed, mad, bad, unlucky or just flat out odd characters; and he does a great line in Scottish venacular. What he doesn't do is pull any punches.As with many short story collections from a single author, there are some that will work better than others for all readers. But to be a reader of this book you're going to have to have a high tolerance for "language", in your face drug taking, and being dragged backwards through the wild side.The only proviso I'd make is if you've not read other collections or books, this may not be the best place to start.
Review by AaronPt
16/06/2015
The common theme in the reviews quoted inside my edition of 'The Acid House' is 'exhilirating'. They're definitely startling stories, full of weird twists. Irvine Welsh does his best to avoid any sort of literary convention of language, structure, subject matter or taste. It has a feel of being punk literature, short little stories that are out to shock and reinvent, that value originality over refinement. Like a lot of punk music as well, it was a more shocking at the time. A bit of that abrasiveness has worn off over the twenty years since 'The Acid House' was published, but thankfully Welsh's writing is strong enough and unique enough that this doesn't really matter.It's still weird enough that it won't be to everyone's taste. The Scots language will alienate some of its audience and draw others in, as the other reviews on LibraryThing testify. But if you want a bit of slash and burn literature, a palate cleanser, then this might be what you're looking for.