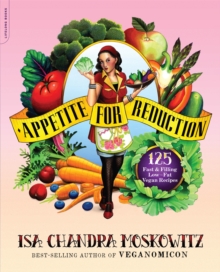 Appetite for Reduction : 125 Fast and Filling Low-Fat Vegan Recipes
Paperback
Description
p class="MsoNormal"This is not your mother's low-fat cookbook.
There's no foolish tricks, no bizarre concoctions, no chemicals, no frozen meals&hellipno fake anything! Appetite for Reduction means cooking with real food, for real life. (Skimpy portions need not apply.) In Appetite for Reduction , bestselling author and vegan chef Isa Chandra Moskowitz has created 125 delectable, nutritionally-balanced recipes for the foods you crave- lasagna, tacos, barbecue, curries, stews, and much more- and it's all: Only 200 to 400 calories per serving Plant-based and packed with nutrients Low in saturated fat and sugar high in fiber Drop-dead deliciousYou'll also find lots of gluten-free and soy-free options, and best of all, dinner can be on the table in less than 30 minutes.
So ditch those diet shakes. Skip that lemonade cleanse. And fight for your right to eat something satisfying!
Now you can look better, feel better, and have more energy- for health at any size.
Information
Format: Paperback
Pages: 320 pages, 16 pages of colour photos
Publisher: INGRAM PUBLISHER SERVICES US
Publication Date: 07/12/2010
Category: Diets & dieting
ISBN: 9781600940491
Free Home Delivery
on all orders
Pick up orders
from local bookshops
Reviews
Showing 1 - 5 of 5 reviews.
If you're already a fan of Isa's books, you'll love this one. The instructions are easy to follow, the recipes are delicious, and everything is easy to change up so you're never eating the same thing. I love all the sauce options she has for making veggie bowls, and having all the nutritional information at my fingertips is amazing. I wish all cookbooks were like this!
Review by megtall
16/06/2015
I have had this cookbook for a while, but I kind of forgot about it. In the last week, I've made 7 of the recipes, and all of them were excellent! My favorites so far are:-Baked onion rings-Baked falafel-Pasta de los Angeles-Chili Lime Rubbed Tofu-Vegetable KormaI'm still really loving this cookbook, and I may update this review as I make more recipes. Highly suggest it to the veggies and vegans. And, my omni husband LOVES these recipes too.
Review by jehara
16/06/2015
"Not looking forward to a tiny frozen entrée for dinner? Can't bear the thought of rice cakes and diet shakes? How about a simmering pot of aromatic curry bursting with color, pasta smothered in plenty of creamy pesto, a stick-to-your-ribs chili, crispy onion rings with a juicy center, or a fully loaded lasagna?This isn't your mother's low-fat cookbook. No foolish tricks, no bizarre concoctions, no chemicals, no frozen meals, no fake anything—this is cooking with real food, with a real budget, and for real life. This is cooking with an appetite.Healthy cooking doesn't have to mean deprivation. It doesn't mean restraint, it doesn't mean willpower, and to hell with the idea of 'being good.' Utilizing every plant-based food there is and inspired by cooking techniques and traditions from across the globe, I wanted to create a low-calorie, low-fat cookbook brimming with nutritious meals that are satisfying at every level, from your taste buds to your tummy. Because what's the point of filling yourself up on foods that you aren't even enjoying?"The Gist:Isa's back with another cookbook filled with creative and delicious recipes. She paired up with nutritionist Matt Ruscigno, MPH, RD. to create a book focused on creating healthy recipes that are between two hundred and four hundred calories and low in fat. Isa is not in the business (nor is she interested in) creating a 'diet'. Rather she is more interested in creating sustainable, healthy eating habits that will maintain a healthy weight.My Thoughts:I have every single book Isa has written or co-written, including her newest, Vegan Pie in the Sky. She is hands down my favorite cookbook author. I have yet to try a recipe from any of her books that I absolutely didn't like. Her baked goods are heavenly. Her meals are delicious, satisfying, and creative. Isa (and Terry, her partner-in-crime) have revolutionized my kitchen. Before discovering their books o' goodness, I had only dabbled in the arena of vegan cooking. Most of my recipes came from vegetarian magazines and a few standard vegetarian cookbooks. However, meeting Isa in book form gave me confidence in vegan cookery and bakery. I have so much fun in the kitchen with my arsenal of books written by Isa, Terry, and Isa and Terry. So, I expected nothing less when I dug in to Isa's latest solo work.First, let's get the aesthetics out of the way. This book is puuurty. The cover is made of high quality paper and feels sooo good in my hands, not to mention the fun cover art. The food photography is stunning with quirky elements peeking through in the background. Oh! And there are lovely drawings peppered throughout the book. It makes me happy just to stare at it. Achem, moving on now.Isa includes a nutritional breakdown of every recipe, which is so helpful for bragging to people about how nutrient dense your lunch is when someone looks at you funny because your meal lacks meat. My yummy pita pocket filled with Spicy Blue Potato & Corn Salad (pg 18) has 12 GRAMS of PROTEIN, 11 grams of fiber, 60% RDA of Vitamin C and 20% IRON. Yeah, buddy! Heading those pesky protein and iron questions off at the pass, for the win!Isa includes helpful tips in sidebars for how to chop the seemingly impenetrable butternut squash, how best to cut a chipotle, how best to press your tofu and tame your tempeh, where to source ingredients, and she offers substitutions for the occasional hard-to-find ingredient. She includes metric conversions for our friends across the pond, and a section on nutrition. She includes sidebars of information and myth debunking throughout the book as well. (For instance, The Great Soy Scare).Oh and did I mention how EASY the recipes are? Most of the recipes can be whipped up in thirty minutes or less. Isa is also great at breaking down the time for you into the active and nonactive time, which is really helpful. I prefer to prepare a couple of meals on the weekend to be enjoyed throughout the week. I really dislike cooking when I get home from work as I feel like it will suck up my whole evening. However, there comes the occasional evening where dinner needs to be prepared. Last Wednesday was such a night. B and I whipped up Mac & Trees (pg 184). It literally took less than twenty minutes. (It helped that we did veggie prep over the weekend so everything was chopped and ready to go).Another thing about this book that captured my heart: her honesty. In Isa's previous books, she has made it no secret that she is not a size zero and is happy with her body. When she fluctuates outside of her comfort zone she lays off the cupcakes and makes certain substitutions in her meal prep. Before reading the book and having this little bit of knowledge I was curious as to why she wrote a book focusing on weight loss. Isa is generously open in the introduction about why she wrote this book:"For years I was at a weight I was happy with, but eventually (like most people) I began to pack on the pounds once again. Not that I need a good reason to gain weight, but I do have a few. I wrote a bunch of cookbooks—one dealing completely in cupcakes—and I was constantly surrounded by food. I also quit smoking (best decision I ever made) and found it difficult to keep cookies from hopping in my mouth instead. But on top of that I was diagnosed with two medical issues that are known to make it difficult to lose weight: PCOS (polycystic ovary syndrome, a hormonal issue) and hypothyroidism (an underactive thyroid gland, which regulates metabolism). So even if I wasn't eating more than usual, my slower metabolism would guarantee I put on some extra pounds.My decision to change my diet wasn't an easy one. I definitely didn't want to perpetuate all the fat-phobia in this country and the systemized berating of big girls. Your weight is not your worth! I think women have every right in the world to not worry about what they're eating, not obsess over the scale, and not put up with all the BS that comes our way because of our weight.My decision really was a personal one. My knees were achy, my periods were irregular, and my energy levels were low. I needed to change what I was eating—less fat, less sugar—and I needed to get more active. Would that lead to weight loss? I really wasn't sure! What I can tell you is that when I eat low-fat, plant-based meals I feel better, weight does come off, and, unless I skip breakfast or something, I never feel hungry.So yes, I wrote this book for me, but I hope it rocks your stovetop too. Low-fat cookbooks can be a war zone for women. I wanted to create something fun and positive, something that would empower you in the produce aisle and give you a reason to sport that cute vintage apron. I want you to love your kitchen, love yourself, and yeah, maybe to love tofu just a little bit, too." (excerpted from the Introduction)Isa's openness and honesty made me love and respect her even more. The recipes don't seem dramatically different from her other books aside from being even more conservative in the amount of cooking oil used, more tips to avoid it and get your good fats from a bit of avocado or some nuts. The other big difference is you will find nary a dessert lurking behind any of the pages.Another of my favorite features of this book is the list of suggestions for mixing and matching and inventing your meals. Her mini-section on 'The Elements of a Bowl' had me laughing out loud."Anyone who has been vegetarian for any amount of time, or anyone who has ever stepped foot into a '90s health food restaurant, for that matter, will be familiar with 'The Bowl'—an upside-down hard hat filled with some combination of veggies, grains, and beans plus a sauce or two."Being nearly a lifelong veghead I have managed to avoid "The Bowl." But maybe that is why I find it difficult to create dishes on a whim. I have not learned the value of "The Bowl." She also has a mini-section dedicated to wraps and sandwiches wherein she gives recipe pairings and tips for creating your own concoctions. I found these two sections to be like gold at the end of the Isa rainbow as I still struggle to create full meals without the aid of a book. She provided some tools as a jumping off point, which I can use to go off on my own and make good use of whatever is lingering in my fridge.It would be a bit of an understatement to say that I LOVED this book. I want to marry this book. I want to give this book its own pedestal in my kitchen I am so enamored of it. I am super inspired by all of Isa's hard work, tips, and concoctions. I have whipped up two of the recipes this past week alone, and look forward to trying more.The only downside to this book, as previously mentioned, is that there are not any desserts. I had to flip the page again just to double check once I hit the end. But I get it. It's a weight-loss book. In spite of this, my sugar-craving self was hoping this dessert exclusion was an error. But then I remembered that Isa has written a plethora of dessert books. And all her other books have a dessert section. So we're good.Last Words:Creative, healthy, and nutrient-dense recipes by the goddess of vegan cookery, Isa Chandra Moskowitz.
Review by GrapeNoggin
16/06/2015
I'm sure the recipes are great, but they were mostly too involved. I just want a cookbook that has reliable, easy, tasty meals I can make when I get home from work.
Review by LisaMaria_C
16/06/2015
I'm partly rating this on faith, since I haven't had a chance to try many of the recipes yet. I was talking diets with a friend of mine who is a vegetarian (and note, never has had excess fat on her body in her life, sometimes I hate her. I told her I was once on the Scarsdale diet and described it to her--and her comment was that that sounded like the grimmest book on the planet--and recommended this if I wanted to cut fats from my diet. Mind you, my skinny friend uses recipes from this everyday. I, on the other hand, am very far away from the target group for this book. I'm not a vegetarian--and this isn't just vegetarian but Vegan. And this is very, very hippie. The introduction speaks much of things like "cruelty free" and animal rights and the environment. This isn't just a cookbook, nosiree, it's a cause! There's even a recipe for "Caesar Chavez Dressing." I kid you not. And that's not me. Although Moskovitz's sense of humor did mean I was more amused than irritated. This is the opening sentence of "Chapter 1 - Full-On Salads:" <i>THERE WAS A TIME—A LONELY, LONELY TIME—WHEN SALADS were a pale and limp affair, relegated to the side of your plate, practically weeping. I think those dark days were also known as the '80s.</i> *snerk* I do appreciate the plethora of nutritional information. Each recipe tells you how many servings, how long it takes to make, and per serving the calories, calories from fat, total fat, trans fat, total carb, fiber, sugars, protein, cholesterol, sodium, vitamin A, vitamin C, calcium, iron. Also included are suggestions for what other recipes in the book would partner the dish well. I asked my friend some of her favorites--what I should try first. She told me the Buffalo Tempeh had become a standard with her, the mushroom tibs are delicious, the Garlicky Mushrooms and Kale a staple, the Onion Rings a treat, but the Chickpea Piccata is special. So that I decided to make first. The Grilled Portobello and Caulipots (Potatoes and Cauliflower mashed together with some broth and olive oil) were suggested as accompaniments. It was delicious! Portobello mushrooms, where have you been all my life! And the Picatta served over Arugula and the Caulipots? Nom! Nom! Nom! And this is a carnivore speaking. And btw, not someone I'd call an expert cook--but this was all easy to make.So, I'm rating this a five and calling it a hit. And I don't think I'm being premature.
Also by Isa Chandra Moskowitz | View all