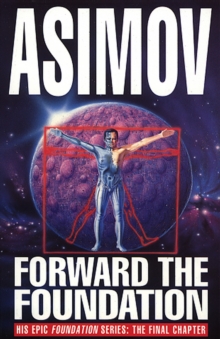 Forward the Foundation!
Paperback
Description
For more than forty years, Isaac Asimov thrilled millions of readers with his bestselling Foundation series, a spellbinding tale of the future that spans thousands of years and dozens of worlds.
Completed just weeks before his death in April 1992, Forward the Foundation is the seventh and concluding volume of this masterwork, which was awarded a Hugo for the 'Best All-Time Science Fiction Series'. In the earlier Foundation novels, Hari Seldon, the guiding genius of the Foundation, was a figure of history.
By going back to the great mathmatician's life, in Forward the Foundation, Asimov fills in the remaining gaps in his epic story.
Asimov acknowledged that he always regarded Seldon as his alter ego, and this novel is all the more poignant for the fact that he himself died only weeks after writing about Seldon's death. A resounding tour de force, Forward the Foundation offers the dramatic climax to the Foundation series, and perhaps the greatest moment in science fiction to date.
Information
Format: Paperback
Pages: 480 pages
Publisher: Transworld Publishers Ltd
Publication Date: 01/09/1994
Category: Science fiction
ISBN: 9780553404883
Free Home Delivery
on all orders
Pick up orders
from local bookshops
Reviews
Showing 1 - 2 of 2 reviews.
Review by isabelx
16/06/2015
The life of Hari Seldon is well encrusted with legend and uncertainty, so that little hope remains of ever obtaining a biography that can be thoroughly factual. Perhaps the most puzzling aspect of his life deals with his consort, Dors Venabili. There is no information whatever concerning Dors Venabili, except for her birth on the world of Cinna, prior to her arrival at Streeling University to become a member of the history faculty. Shortly after that, she met Seldon and remained his consort for twenty-eight years. If anything, her life is more interlarded with legend than Seldon's is. There are quite unbelievable tales of her strength and speed and she was widely spoken of, or perhaps whispered of, as 'The Tiger Woman'. Still more puzzling than her coming, however, is her going, for after a certain time, we hear of her no more and there is no indication as to what happened. The second prequel to the Foundation Trilogy starts eight years after the event of "Prelude to Foundation". Hari Sheldon is now a mathematics professor at Streeling University on Trantor, and is continuing his research into psychohistory under the protection of Eto Demerzel, the First Minister of Emperor Cleon I.Over the next 40 years Sheldon and his colleagues find the development of psychohistory slow-going until Sheldon discovers the mental powers that will inspire him to create the Second Foundation.
Review by IAmAndyPieters
16/06/2015
Having read all the other foundation books first, reading this prequel was highly enjoyable. We finally discover how Hari Seldon created psychohistory. How he encountered and dealt with each titanic obstacle to create the greatest magnum opus. Thanks to the tenacity and insight of one man, the interregnum will last 'only' one thousand years, instead of thirty. Finally a lot is revealed but I cannot help to found wanting to know more! There are many references to Hari's earlier life when he had to 'flee' all over Trantor and where he met Danneel and Dors, yet none of them actually tell the story...