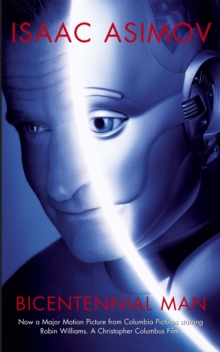 The Bicentennial Man
Paperback
Description
This classic collection includes the title story, acclaimed as Asimov's single finest Robot tale, and now made into a Hollywood movie starring Robin Williams.
Each of the eleven stories here sparkle with characteristic Asimov inventiveness and imagination.
Information
Format: Paperback
Pages: 224 pages
Publisher: Orion Publishing Co
Publication Date: 17/02/2000
Category: Anthologies (non-poetry)
ISBN: 9781857989328
Free Home Delivery
on all orders
Pick up orders
from local bookshops
Reviews
Showing 1 - 3 of 3 reviews.
Review by soylentgreen23
16/06/2015
I had the strangest feeling as I was reading this book, back in (when was it?) 2001. "They should make this into a film!" I thought. And then they did, less than a year later. What an incredible coincidence - but then think of all the other times when my unspoken advice went unheard; consider all the other books I think should be movies that aren't.The story itself is true Asimov, bringing robots to life, but it never strays too far into sentimentality, and never into schmalz. Thank goodness!
Review by LisaMaria_C
16/06/2015
Arthur C. Clarke said that science fiction done well at the least can give the pleasure of a "good puzzle" and entertain. Asimov is always science fiction done well, and this collection is no exception. I don't think Asimov has a strong prose style, and his characters are rarely memorable. But in the best stories by him I've read, such as "The Dead Past" or "Nightfall" he can stun me by making me see the world in a whole new way. I don't think any of the stories here are of that order--with the possible exception of "The Bicentennial Man." Asimov rarely pulls at my heartstrings--the short stories "The Dead Past" and "The Ugly Little Boy" are exceptions. This is another one--I had a lump in my throat by the end. And it's so well done--the whole passing of different generations in the lifetime of this robot. Oh, yeah, it's a robot story--an Asimov specialty. As are two of my other favorites outings in the book, "Feminine Intuition" and "That Thou Art Mindful of Him." I do love the point Asimov made in the first story mentioned, and how... subversive the other one is of his own robot lore. Both "The Lives and Times of Multivac" and "The Winnowing" have wicked good twists. And I liked the undersea setting of "Waterclap." There wasn't any of the 12 stories I didn't like. Those were just the ones I found standouts. I can't imagine a science fiction fan not enjoying these.
Review by Chris.Graham
16/06/2015
A strangely moving story, the movie, starring Robbie Williams as the Robot, captured it extremely well and is one of the few times I actually warmed to Williams as an actor.