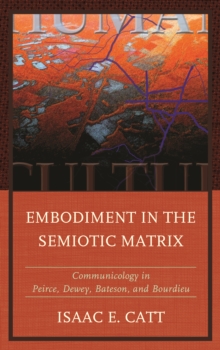 Embodiment in the Semiotic Matrix : Communicology in Peirce, Dewey, Bateson, and Bourdieu
Hardback
Description
Communicology is widely accepted on the international scene as a new name for the study of human communication.
It replaces several equivocal disciplinary conceptions such as "communication," which may fail to distinguish the science of communication from its object of investigation or the message-centered "communication studies," which often obfuscates information exchange with the experience of shared meaning in human encounters.
Communicology differs from the American mainstream social science of communication not only because it is grounded in communication theory rather than information theory, but also because it advances a philosophically informed ecological perspective on human discourse.
This book is intended as a contribution to the philosophy of communication and the human science of communicology.
Semiotic phenomenology is thoroughly described as the synthetic logic that combines a philosophy of consciousness with a science of culture and conduct to explicate the lifeworld habitus.
Consciousness is viewed as cultural-semiotic and experience as personal-phenomenological.
This is a reciprocal, reflexive relationship in which culture is conceived as consciousness of communication and communication the manifest experience of culture.
The book describes embodiment so conceived, including the history of the matrix idea in American pragmatism and European philosophy as they commingled in the United States to produce a unique discipline of communication, the science of embodied discourse.
Important roots of this new discipline are described for the first time here in a unique synthesis of C.
S. Peirce, John Dewey, Gregory Bateson, and Pierre Bourdieu.
In addition, the semiotic relativity hypothesis is argued to be an important implication of this new discipline.
Transcending the stale debate on language and thought, the limited conception of linguistic relativity is considerably broadened and deepened.
The distinctive lifeworld of humans is argued to occur at the threshold of sign consciousness in the semiotic matrix of culture-society-person.
Semiotic phenomenology is not only a synthesis of two great European philosophical movements, structuralism and phenomenology; it is also the essence of American pragmatism.
This view culminates in the contemporary human science of communicology.
Information
Format: Hardback
Pages: 250 pages, 1 Illustrations, black and white
Publisher: Fairleigh Dickinson University Press
Publication Date: 22/09/2017
Category: linguistics
ISBN: 9781611479768
Free Home Delivery
on all orders
Pick up orders
from local bookshops
Also in the The Fairleigh Dickinson University Press Series in Communication Studies series | View all